The Blues usually deals with extremely adult themes. Undercurrents of sexual imagery are often close to the surface in Blues songs dealing with desire, love and loss in human relationships. Drugs, drinking, and violence are common themes too, and not suitable for young and tender ears.
However, that doesn't mean that even very young listeners can't enjoy some wonderful Blues artists.
We have selected a few albums that are addressed directly to our children, and a few more tracks to sample and download that perhaps might encourage a sing-along, in the hope of sparking an interest in this most expressive and inclusive musical form.
Frankie Finds the Blues
The story of how Frankie, with the help of his Grandmother finds the Blues. A night at a live Blues gig changes the young boy's life, introducing him to not only listen, but play The Blues.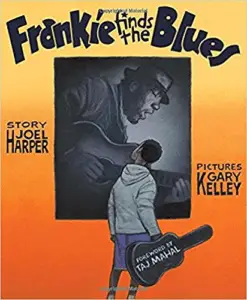 As an Amazon Associate I earn from qualifying purchases.
Lead Belly Sings for Children
These tracks were recorded for posterity by a man who knew more early American songs that just about anybody. Lead Belly introduces each of these 28 songs with a little story. From counting songs, spirituals, and a Christmas ditty to classics like 'Pick a Bale of Cotton', 'Jimmy Crack Corn' and 'Take This Hammer', this is warm, engaging music for everybody to enjoy.
Taj Mahal - Songs for the Young at Heart
Taj Mahal's own children join in the choruses on some of these songs, presented like a concert, complete with amusing links. In typical Taj style, the material is widely sourced, from West-Africa and the Caribbean to a song about going to the race-track! This is an expanded 15 track version of Taj's 1992 children's album 'Shake Sugaree'.
Keb Mo chooses some classic popular tunes like 'Love Train', Isn't She Lovely' and 'Family Affair', along with some funny, spiritual and philosophical songs. This collection has a timely recognition that not all families are traditional 'nuclear' set-ups, with the extremely moving songs 'Color Him Father' and 'I Am Your Mother Too'.
Buckwheat Zydeco - Choo-Choo Boogaloo
A kids record with a whole new style! 'Little Red Caboose', 'Cotton Fields' and 'Iko Iko' get the Buckwheat Zydeco treatment, and 'Crawfish Song' and 'Mardi Gras Mambo' are Zydeco classics in themselves. Each of these 13 tracks is preceded by Buckwheat's unique introduction and each one makes you want to dance.