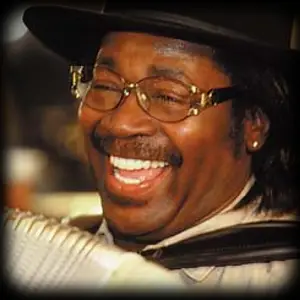 The biggest star in modern Zydeco carries the torch lit by his mentor Clifton Chenier as he plays his accordion into the new century and brings this good-rocking dance music to the mainstream. Buckwheat Zydeco performed at both of President Clinton's Inaugurations and, after playing to a TV audience of three billion at the 1996 Olympic closing ceremony, he must be the best known Zydeco player in the world.
Born in 1947, Stanley Dural Jr. of Lafayette LA was a child prodigy on piano, and was quickly given the nick-name 'Buckwheat' from the braided hair he wore, like the character in the 'Our Gang' films. His father played accordion but Buckwheat was an R&B fan and in the late 60s he was playing piano and organ with Joe Tex and
Clarence 'Gatemouth' Brown
on tour. Forming his own 16-piece band The Hitch-hikers, Buckwheat played funk around the 'chitlin circuit' for five years until Clifton Chenier, a friend of his father, recruited him to his band. Buckwheat loved the effect that high-energy Zydeco had on the audience, and after two years felt confident enough on accordion to start out with his own band 'Ils Sont Pertis!' ('They're Off!') They recorded 'One For the Road' for the Blues Unlimited label then, as Buckwheat Zydeco, for Black Top and later for Rounder. Albums like '100% Fortified', 'Turning Point' and 'Waiting for my Ya Ya' allowed Buckwheat to take the music out of its homelands and onto the national and international stage.
Buckwheat takes his Zydeco to Australia;
The 80s was a good decade for Zydeco, and when Clifton Chenier passed away in 1987, Buckwheat was largely the man responsible for taking the music forward. Signing for the major Island label, he interpreted music from
Booker T
, Bob Dylan and
Eric Clapton
with a verve that opened people's ears to the essence of Zydeco. Buckwheat opened a 12-night season for Eric Clapton at the Albert Hall in London, and found himself sharing stages all over the world with Paul Simon, Willie Nelson,
Ry Cooder
, Robert Plant and countless others. His music appeared on several film soundtracks, and he worked with Yo La Tengo on the soundtrack to the Dylan bio-pic 'I'm Not There'. Buckwheat also wrote TV music and picked up an Emmy for the TV movie 'Pistol Pete'. His contribution to the Katrina Benefit album 'Our New Orleans' was 'Cryin' in the Streets', which says it all. In 2009, Buckwheat's 'Let the Good Times Roll' was his 21
st
album, and he continued to make people dance all over the world until his passing in Lafayette on September 24th 2016.