Lead Belly (Huddie Ledbetter)
Lead Belly was an enigma. Nobody could claim to have a wider repertoire; popular songs, dance tunes, blues and folk songs, prison ballads; the man was a human juke-box accompanying himself on guitar, mandolin, accordion and piano. Yet a man so rich in talent lived and died in poverty.
In 1889 Huddie Ledbetter was born in rural Louisiana to hardworking sharecropper parents. He showed an early interest in music in church and by the age of 14 he was playing spirituals and minstrel songs at parties and dances most Saturday nights. He already owned a pistol and was convicted of a shooting offence for which he was fined a substantial $25. The bright lights of nearby Shreveport's Fannin Street red-light district soon attracted young Huddie and there he picked up a twelve string guitar and the idea of walking bass-lines from the barrel-house piano players in the local cat-houses.
Huddie lived the life of a wandering songster, moving around East Texas and Louisiana and expanding his vast repertoire of songs from a wide range of influences.
In Dallas, around 1915, he ran into Blind Lemon Jefferson, who showed him how to play slide guitar. The pair lived a wild life together for a couple of years, with Huddie using the alias 'Walter Boyd' as he was on the run after escaping from jail. Huddie's tendency to violence led to him shooting dead their friend Will Stafford, for which he was sentenced to 30 years. When State Governor Pat Neff was visiting the prison in 1925, Huddie (now known by his prison name of Lead Belly) charmed him with an improvised song asking for clemency, and he was duly released. A few more years of playing the rambling troubadour were ended in 1930 when Huddie was again given 30 years in Angola Penitentiary for the attempted murder of a white man.
Huddie sings 'Ain't it a Shame' a cappella'
Music again opened the jail-house door for Lead Belly when John and Alan Lomax visited Angola in 1934 on a field-trip on behalf of the Library of Congress. After recording a staggering array of songs, Lomax convinced the authorities that this charismatic performer could be reformed and perhaps even be made into a star, given the correct management, and a pardon was obtained.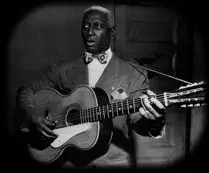 Lomax proceeded to record Lead Belly's extensive catalogue for posterity, covering all kinds of music from folk and blues to work-songs and spirituals, children's ditties, Mexican tunes and many more. Commercial recordings were made for ARC in 1935 but failed to find an audience as Black record buyer's tastes had moved on from Lead Belly's archaic style. The Lomaxes had Huddie photographed in prison stripes and emphasised his violent past in an attempt to gain publicity, but sales of records and concert tickets were not good. Huddie spent most of his time with the Lomaxes as a chauffeur and valet and, to add to this indignity, they managed to gain a share of song-writing credits to most of Lead Belly's material.
Recommended Album
Leadbelly was not a big selling recording artist, but he left a huge repertoire of folk songs, ballads, work songs, Blues and protest songs that he had gathered over a long life as a wandering musician.
'Where Did You Sleep Last Night' with trademark 12-string guitar.
Lead Belly moved into the New York Bohemian scene where he played with Woodie Guthrie, Cisco Houston and Pete Seeger, as well as blues-men like Josh White and Sonny Terry and Brownie McGhee. Huddie was very popular in these left-leaning circles and his 'Bourgois Blues' and 'Scottsboro Boys' were examples of his political song-writing that could be seen as early 'protest songs'. This did not translate into commercial success either and Huddie and his wife Martha were still living in poverty. The couple went to Hollywood the try and sell his life-story, and while he was in LA he recorded a dozen tracks for Columbia, but again with no real reward.
In 1949, Lead Belly played some concerts in Paris in an attempt to interest European audiences, but his health began to fail and by the end of the year he had died in New York from motor-neurone disease. Two years later 'Goodnight Irene', a song Lead Belly had picked up on Fannin Street almost fifty years previously, was a million selling hit for his proteges The Weavers, and a few years later Lonnie Donegan's version of the Leadbelly song 'Rock Island Line' was a hit on both sides of the Atlantic. If he had lived just a few more years Lead Belly would have been the biggest star of the Folk/Blues Revival.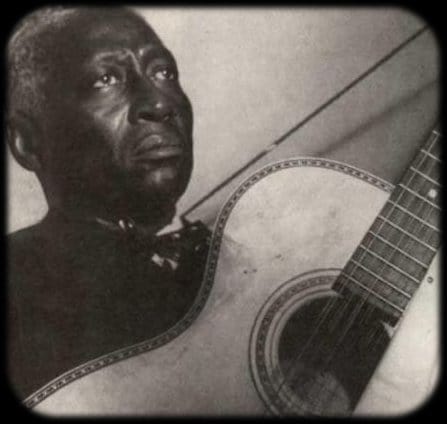 'Goodnight Irene' was one of Lead Belly's oldest tunes;