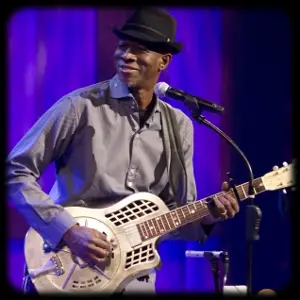 Keb Mo's guitar style is firmly rooted in the Delta, his voice has an authentic Blues tone, and his songwriting speaks to modern concerns so, like his contemporaries Eric Bibb and Guy Davis, his work shows that the Blues is 'alive and kicking' in a form that would not sound out of place ninety years ago. Although Keb's music is based in Folk/Blues, his compositions are so accessible they have propelled him out of the purist circle, and his collaborations with other artists, his  children's album, his film work and his political activism show him to be a man of broad interests and great talents.
Kevin Roosevelt Moore was born in Los Angeles in 1951, and he learned guitar as a teenager. Blues, R&B, Soul and Gospel music were all over the radio in the 60s but his first band, where he played string bass and congas, was more about calypso! A second band played R&B, and when they supported Papa John Creach he invited Keb to play on his albums, and also with Jefferson Starship. A solo album in 1980 was released under his real name, and was definitely R&B, but with his next project, The Whodunnit Band, Keb got the chance to open gigs for some well known Blues players, and he guested with
Albert Collins
and
Big Joe Turner
. When Keb portrayed
Robert Johnson
in the play 'Rabbit Foot' and then in the documentary film 'Can't You Hear the Wind Howl', his conversion to Delta Blues was complete. His first 'Keb Mo' album in 1994 had a couple of Johnson covers but was dominated by Keb's own compositions, with his passionate vocals delivered over some skilful acoustic guitar picking and slide work.
'Every Morning' from Keb's debut album;
The follow-up, 'Just Like You' had some tracks with a band, and guest appearances by Bonnie Raitt and Jackson Browne, and it won Keb a Grammy. A second Grammy came with his next effort, 'Slow Down', which moved Keb closer to Blues-rock and introduced him to a wider audience. Keb has always been open to a range of musical influences, and his guitar work incorporates a lot of intricate Piedmont stylings. There are elements of jazz and country phrases in his playing too, and he sometimes shows his versatile skills on the harp, banjo and keyboards. Keb's relatively swift rise to prominence gave him the chance to tour widely, and play with some Blues Legends including BB King and Buddy Guy. His 2003 album 'Keep It Simple' bagged another Grammy and in the same year he contributed to the concert DVD, 'Lightnin' in a Bottle', and took part in Martin Scorsese's epic TV series 'The Blues'.
Keb with 'She Just Wants to Dance';
Acting seems to have come easy to Keb: he played the role of 'Guitar Man' in the Zora Neal Thurston play 'Spunk', among many other stage appearances, and he took a big part in the 2007 movie 'The Honeydripper'; he played Jimmy Rogers in 'Who Do You Love'; and appeared as himself in The West Wing, where he performed 'America the Beautiful' in the series finale. He is politically active with 'No Nukes', among other causes, and has also performed Shakespeare sonnets and recorded a children's album, so he might be considered as something of a 'Renaissance Man'! He was nominated for another Grammy with country girls The Dixie Chicks and has also recorded with Willie Nelson, as well as guesting on other peoples albums and composing for TV and films. Keb's excellent solo albums keep on coming every couple of years and he continues to tour regularly. Like I said: Alive and Kicking.