With Erja Lyytinen & Cheri Lyn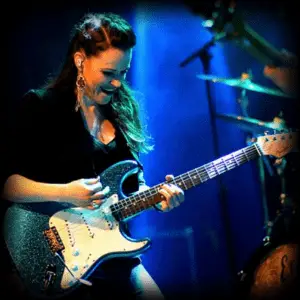 Erja Lyytinen has been described as "The Future" by no less a guitar star than Carlos Santana.
Hailing from Finland, Erja was voted European Guitarist of the Year in 2018 and performed to a festival audience of 80,000 in Helsinki as well as playing over 100 headline shows across Europe.
She comes with a recommendation from Sonny Landreth - "I sure enjoy her guitar skills- things are going well for her and for good reason!" - and he's the acknowledged master of slide guitar - so you can take it from him - she's good!
Erja has so far released 6 albums - receiving great reviews and accolades.
"...this lady could be the greatest Finnish export since the Nokia 3310, or even perhaps the mighty Hanoi Rocks." (Bluesmatters Aug-Sept 2017, David Osler)
"Over the last twelve months Erja Lyytinen has starred on MTV Finland's Tahdet Tahdet show, picked up the much coveted European Guitarist of the Year award, performed in front of 80,000 people in her hometown of Helsinki on New Year's Eve, shared the stage with the legendary Carlos Santana as well as clocking up in excess of 100 headline shows across Europe. An impressive twelve months to say the least." (Adam Kennedy, National Rock Review)
check out more at http://www.erjalyytinen.com
Cheri Lyn is one of the new wave of power house blues vocalists - drawing on legends like Tina Turner and Janis Joplin - her mission is bring back the spirit of the 60s and 70s and mix it up with contemporary sounds and styles.
Cheri believes her music has a message - her songs are about empowerment and self belief - modern themes blended with classic blues. She describes her style as Glam Blues fused with Rock and Soul. Cheri's a newcomer to the scene with an album and a new single just released - but she comes from a musical family and has already played gigs around the world.
Her new single is called "Everybody Loves A Secret" and reveals the true story of how she was romanced and woo-ed by someone who turned out to be married - and she only discovered this when his wife contacted her! As Cheri says, if you are going to do such things - don't do it with a songwriter!!! Here's the story!
Check out more at https://cherilyn-music.com/