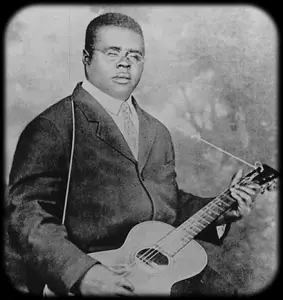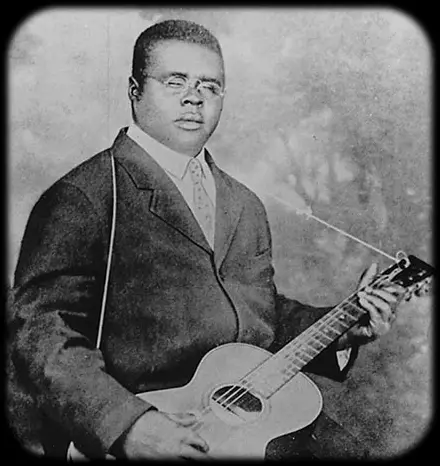 For more than twenty years, the big, chunky blind fellow with the 'owlish' features, broad-brimmed hat and tapping stick, playing his guitar with a tin cup around his neck, was a familiar sight on the streets of Dallas. His shrill, clear voice could be heard for a couple of blocks and would often draw a crowd that stopped the traffic. His guitar playing had a dense, free-form style that showed little regard for regular time and structure, but allowed his direct and expressive songs to shine through. He could declaim his unique brand of Blues like a firebrand preacher or use sad, regretful, even tragic tones, but his delivery never descended to self-pity, and his pathos was more attuned to the plight of an oppressed people than to a young man who had been blind from childhood. There is some doubt whether he was totally blind, perhaps with some residual vision, but as Victoria Spivey said, "He sure could feel his way around!"
In 1893, Blind Lemon Jefferson was born near Galveston Texas, and although he made his home and his reputation in Dallas, he roamed far and wide around the South and the Mid-West as a 'wandering songster'. His companion for some years was
Huddie 'Lead Belly' Ledbetter
, who told many tales of their travelling times. They would hitch rides on trains, playing to entertain the crew and passengers. Silver City on the line to Forth Worth was a favourite destination, as Lead Belly recounts. "That was me and Blind Lemon's hangout. We had twenty-five or thirty girls each out there. We liked for the women to be around....... they brings men and that brings money." Both men drank and gambled heavily as they worked the barrel-house circuit of saloons and gin-mills, but their double act was broken up in 1918 when Lead Belly was given thirty years in jail for the murder of Will Stafford.
Lemon recorded 'Black Snake Moan' in November 1926;
Lemon needed a 'lead-boy' to be his eyes, so when he was in Dallas the young Aaron 'T-Bone' Walker would take him around, and in Houston Sam 'Lightnin' Hopkins would do the same, and in return both got a Blues education that served them very well in later life. When Lemon was over in the Carolinas, a seven year old Josh White would be his 'lead-boy' and he would keep a beat with the tambourine while Lemon played. When a good crowd had gathered, Josh would turn the tambourine upside down and implore, "Help the blind!" He must have been a strong kid to carry all those nickels and dimes, because some weekends they made $150, an astonishing amount of money for the time!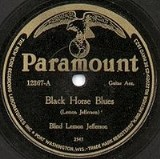 Sam Price was a record salesman in a Dallas store, and in 1925 he arranged for Lemon to record 'Old Rounders Blues' and 'Begging Back'. These tracks and some others made in February 1926 got Lemon the chance to record for Paramount in Chicago, where producer 'Ink' Williams was looking for new talent as the market for 'race music' opened up. Just before his Blues records came out, Paramount released a record by 'Deacon LJ Bates' which was Lemon disguised as a 'guitar evangelist'. The suggestive 'Black Snake Moan' and 'Matchbox Blues' were early Lemon hits, and his heartfelt performances of 'Penitentiary Blues', 'Hangman's Blues' and 'Prison Cell Blues' followed, raising the question of whether Lemon had served some jail-time during his wandering years. He recorded more than ninety tracks over the three years, all of which he made during visits to Chicago, but he still preferred to live in Dallas. Unlike most of the early Blues players, Lemon largely recorded his own material. This change led the way for other singer-songwriting blues artists to showcase their work rather than simply retailing popular songs. The Blues was becoming a powerful medium of human expression.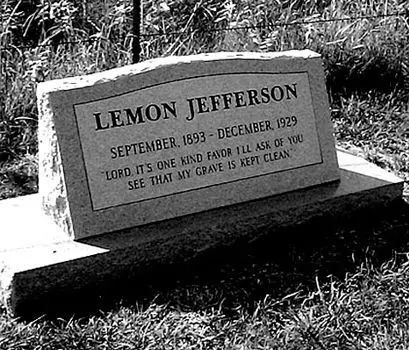 Lemon's reputation grew along with his record sales, and he was well known across the north as well as his old stomping grounds. He enjoyed the fruits of his successful years, and employed a chauffeur to drive his new car. It is said that in December 1929, Lemon was in Chicago when the car got stuck in the snow, and he sadly died from a heart attack in the back seat.
His death at the age of 32 leaves open the question of how much more great work he could have done, but his legacy of songs that have come to us down the years, in their original form or adapted by other players, are a rich inheritance indeed.