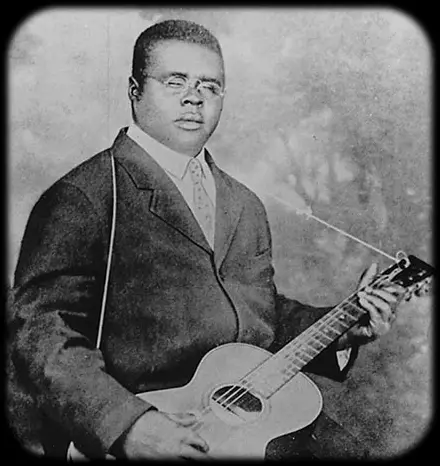 Blind Lemon Jefferson, a physically large, visually impaired individual with distinctive 'owlish' facial features, was a familiar figure on the streets of Dallas for over two decades. Wearing a wide-brimmed hat and carrying a tapping stick, he played his guitar with a tin cup hanging from his neck. His distinctive singing, marked by a sharp, loud voice, often attracted a crowd and would occasionally bring traffic to a standstill. His style of playing the guitar was unique, showing little respect for conventional timing and structure but instead giving his heartfelt and expressive blues songs the chance to take the limelight.
Whether his songs were delivered with the fervour of a passionate preacher or imbued with sorrowful, regretful tones, they never descended into self-pity. They instead conveyed the suffering of a repressed group of people rather than the personal misfortunes of a man rendered blind from his youth. As Victoria Spivey pointed out, "He sure could feel his way around!"
In 1893, Blind Lemon Jefferson was born near Galveston Texas, and although he made his home and his reputation in Dallas, he roamed far and wide around the South and the Mid-West as a 'wandering songster'. His companion for some years was Huddie 'Lead Belly' Ledbetter, who told many tales of their travelling times. They would hitch rides on trains, playing to entertain the crew and passengers. Silver City on the line to Forth Worth was a favourite destination, as Lead Belly recounts. "That was me and Blind Lemon's hangout. We had twenty-five or thirty girls each out there. We liked for the women to be around....... they brings men and that brings money." Both men drank and gambled heavily as they worked the barrel-house circuit of saloons and gin-mills, but their double act was broken up in 1918 when Lead Belly was given thirty years in jail for the murder of Will Stafford.
Lemon recorded 'Black Snake Moan' in November 1926
When in Dallas, the young Aaron 'T-Bone' Walker would act as Lemon's 'lead-boy', guiding him around the city. In Houston, Sam 'Lightnin' Hopkins would take on this role, and both benefitted from the blues education Lemon provided. When in the Carolinas, a seven-year-old Josh White would serve as Lemon's guide. Josh would play the tambourine in time with Lemon's guitar, turning the instrument upside down to collect "Help the blind!" donations once a sizeable crowd had gathered. They could earn up to $150 over a weekend, an incredible sum for the time.
Recommended Album
For those interested in delving deeper into Blind Lemon Jefferson's extraordinary musical legacy, his album 'King of the Country Blues' is a must-listen. The album offers a comprehensive collection of his most celebrated works, providing a glimpse into his raw, emotive blues style that resonated with audiences of his time and continues to inspire music lovers today. From the haunting chords of 'Black Snake Moan' to the evocative strains of 'Matchbox Blues' and 'See That My Grave is Kept Clean', this album is a testament to Jefferson's enduring influence on the blues genre. Don't miss out on this chance to experience the compelling voice and unique guitar style of one of the most influential bluesmen of the early 20th century.
King of the Country Blues
In 1925, Sam Price, a record store salesman, helped Lemon record 'Old Rounders Blues' and 'Begging Back'. This, along with other tracks recorded in 1926, provided Lemon with the opportunity to sign a recording contract with Paramount in Chicago. Paramount was seeking fresh talent as the popularity of 'race music' began to grow. Before the release of these blues records, Paramount put out a track by 'Deacon LJ Bates', which was actually Lemon masquerading as a 'guitar evangelist'. Lemon's suggestive hits 'Black Snake Moan' and 'Matchbox Blues', along with his emotional performances on 'Penitentiary Blues', 'Hangman's Blues' and 'Prison Cell Blues', sparked speculation about whether Lemon had spent time in jail during his earlier years.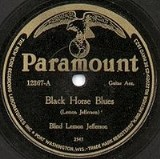 He recorded over ninety tracks during his three-year stint with Paramount, all of which were recorded during his visits to Chicago, although he preferred to live in Dallas. Lemon was unusual among early blues artists in that he mostly recorded his own compositions, setting a precedent for future singer-songwriters in the blues genre. The blues was evolving into a potent form of human expression.
With his reputation and record sales both on the rise, Lemon became a well-known figure in the north as well as in his old southern haunts. He relished the rewards of his successful career, even hiring a chauffeur to drive his brand new car. Tragically, in December 1929, Lemon was in Chicago when his car became trapped in the snow, and he suffered a fatal heart attack in the back seat.
Lemon's untimely death at just 32 years of age has left us wondering what more he could have achieved. Nevertheless, his legacy lives on in the form of his original songs, as well as the many adaptations that have been made by other artists. We are truly fortunate to have inherited such a rich musical treasure.