Bessie Smith had a strong voice with a full-throated delivery, a delicate sense of  phrasing, a good ear for a song and a commanding personal presence. Her millions of record sales and non-stop touring to packed houses made her the most influential Blues singer of the 1920s, whose records 'crossed over' to white audiences. In her private life, her constant drinking, swearing and fighting; her many sexual adventures with both men and women; her long standing use of drugs and her violent death gave her an iconic status as a black performer who lived her life strictly on her own terms, and who didn't give a damn about the consequences. The term 'Wild Child' could have been invented for her.

Bessie was born in 1894 in Chattanooga, Tennessee. She would perform in the street with her kid brother and although she didn't have a great voice she could always draw a crowd. Her older brother Clarence was a comedian with the Moses Stokes traveling vaudeville show and, when she was 17, Bessie joined as a dancer. Ma Rainey often toured with the company, and later claimed to have tutored and encouraged Bessie. After a few years on the road developing her act, Bessie appeared in Southern theatres as a singer in a duo with Hazel Green, and soon began making solo appearances around New York, Atlantic City and Philadelphia as well as on the Southern circuit.
 Bessie appears in one of the first 'talkies' with a version of 'St. Louis Blues';
By 1923, Bessie had signed with Colombia in New York and instantly made a big double-hit with 'Downhearted Blues' and 'Gulf Coast Blues'. She began working with a hot young pianist, Fletcher Henderson, who would later go on to a stellar career as an arranger for Benny Goodman. They produced another big hit with 'T'aint Nobody's Bizness if I Do', showcasing Bessie's defiant demeanour and compelling delivery. In 1925 Bessie recorded a version of W C Handy's 'St. Louis Blues', with King Oliver's young star cornet player Louis Armstrong. She also teamed up with trombone player Charlie Green, who graced many of her most famous records. The hits kept on coming with records such as 'Yellow Dog Blues', 'Careless Love', the suggestive 'Squeeze Me' and 'Reckless Blues'.
Radio did not use much recorded music at the time, but live broadcasts were used to promote touring shows. Bessie's record contract paid her for recordings, but did not include royalties. However, she commanded huge fees for her performances, being paid $1,500 for a week-long engagement in Detroit. Bessie was always on tour with her show. They performed on the TOBA circuit (TOBA is Theatre Owners Booking Association, or possibly Tough On Black Artists!) which booked black acts into over 100 largely white owned theatres. Bessie's brother Clarence acted as tour manager and could claim to have invented the 'tour bus'. He designed a huge railway car that carried the team of 35 musicians, dancers and stage crew, with facilities for sleeping and cooking, as well as a massive tent which allowed them to perform virtually anywhere.
This was a big hit for Bessie, and it was popular throughout the next decade
Bessie was no stranger to violence, if the half the stories told about her are true. She was stabbed at a party after she remonstrated with a man who was 'coming on' to one of her chorus girls and once emptied a revolver at her husband Jack Gee as he fled down the railway tracks. She was also pestered by the Ku Klux Klan. One night in 1927 at Concord, Nth. Carolina, they attempted to cut the ropes to her big tent. They were spotted by the crew, so Bessie stormed off the stage and, hand on hip, delivered a stream of foul-mouthed invective until they withdrew.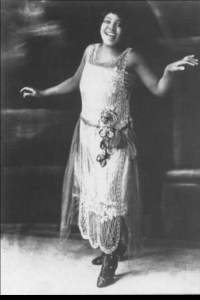 Bessie continued to record, including 'Back Water Blues' about the 1927 Mississippi floods and 'Gin House Blues' and 'A Good Man is Hard to Find', both songs of bitter personal experience. When the 'talkies' arrived she made a short film based on St. Louis Blues which shows us her impassioned performance. On the eve of the Wall Street Crash, she released 'Nobody Knows You When You're Down and Out', which became an anthem for the times. The big money days were over, and although Bessie recorded again in 1933 with Benny Goodman and played the newly opened Apollo Theatre in New York, her star was falling. She died in a horrific car crash on 26th September 1937 while driving down Highway 61 with her boyfriend Richard Morgan, the notorious Chicago club owner and bootlegger.
Bessie certainly knew how to make an entrance……and an exit!