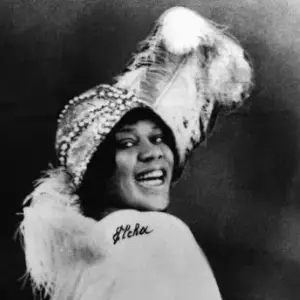 Breaking Boundaries
Bessie Smith, the indomitable force of blues, was more than her fiery performances and tumultuous lifestyle suggest.
Born into humble beginnings, she rose to stardom on the strength of her charismatic presence, raw emotion, and a daring determination that refused to be tamed. This article delves into the life and career of Bessie Smith, tracing her journey from the streets of Chattanooga to becoming the highest-paid black performer of her time, and how she continues to resonate within the annals of blues history.
This is a tribute to her talent, her audacity, and the indelible mark she left on the world of music.
Early Life and Career of Bessie Smith
Bessie Smith, born in 1894 in Chattanooga, Tennessee, was a commanding presence in the world of blues.
Known for her full-throated delivery and superb phrasing, she could always draw a crowd, even from an early age. Her first performances were in the street, alongside her younger brother, and despite not having a remarkable vocal quality in her initial days, her allure was undeniable.
At age 17, she joined the Moses Stokes travelling vaudeville show as a dancer, under the wings of her older brother Clarence, who was a comedian in the troupe. It was here she crossed paths with Ma Rainey, who claimed to have nurtured and encouraged Bessie's raw talent.
After a few years on the road, she began to make solo appearances throughout Southern theatres, New York, Atlantic City, and Philadelphia.
Bessie's career took flight in 1923 when she signed with Columbia Records in New York. Her debut hits, 'Downhearted Blues' and 'Gulf Coast Blues', catapulted her into the limelight.
During this time, she worked closely with Fletcher Henderson, a young pianist who went on to enjoy a prolific career as an arranger for Benny Goodman.
Her association with Henderson paved the way for other hits like 'T'aint Nobody's Bizness if I Do', and a collaborative effort with Louis Armstrong produced a rendition of W C Handy's 'St. Louis Blues'.
 Bessie appears in one of the first 'talkies' with a version of 'St. Louis Blues'
Bessie was always on the move, touring tirelessly with her show across the TOBA circuit (Theatre Owners Booking Association). Despite an absence of royalties from her record contract, she commanded hefty performance fees and was a crowd favourite, drawing significant audiences.
However, life on the road was not without perils. Bessie was no stranger to violence and even had encounters with the Ku Klux Klan. Her private life, rife with drinking, fighting, and numerous affairs, only added to her iconic status as a self-made black performer who lived life on her own terms.
Recommended Album
For those keen to delve deeper into the life and works of the phenomenal Bessie Smith, "The Essential Bessie Smith" album is a must-listen.
A compilation of her most significant hits, this album takes listeners on an unforgettable journey through the heart of blues territory, capturing the raw and untamed spirit that Smith embodied. From the husky tones of 'Downhearted Blues' and 'Gulf Coast Blues', to the heart-wrenching melancholy of 'Nobody Knows You When You're Down and Out', each track is a testament to Smith's talent and charisma.
The album encapsulates the essence of a woman who, in the face of adversity, used her music to transcend societal norms and establish herself as the irrefutable 'Empress of the Blues'.
The Essential Bessie Smith
Despite the personal turmoil and the advent of the 'talkies', Bessie continued to record and perform, releasing 'Nobody Knows You When You're Down and Out', an anthem for the Wall Street Crash era.
Though her star started to dim by the 1930s, the impact she had on the Blues genre was indelible. Bessie's life was tragically cut short in a horrific car crash on 26th September 1937, marking the end of an era for the 'Empress of the Blues'.
Bessie Smith's Influence on Future Generations
Bessie Smith's legacy in the world of blues continues to reverberate through the ages. Her fierce determination and undaunted spirit shone through in her every performance, emboldening future generations of artists to break boundaries and defy conventions.
Her contribution to blues is a testament to her indomitable spirit and relentless pursuit of her craft.
Even though her life was marked by personal challenges and hardship, her music continues to inspire and resonate with people across the globe, affirming her rightful place as the 'Empress of the Blues'.
This was a big hit for Bessie, and it was popular throughout the next decade