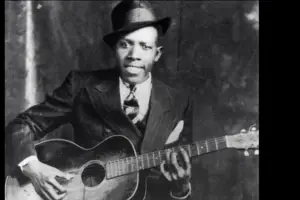 They call him The King of the Delta Blues. He never played to large audiences; they were mainly parties and juke-joints and it is thought he only made one short radio broadcast. He made most of his money playing for tips on the street; his biggest record sold only a few thousand copies and perhaps made him $100; and yet his music echoes down the years in the work of so many who have followed him. Robert's delicate, polyrhythmic fingerpicking style, his strange tunings, his complex chording and his slide-playing inspired generations of guitarists, and many of the songs he wrote have become Blues standards.
Robert Johnson was born on 8th May 1911 in Hazelhurst, Mississippi, the son of a local farmhand Noah Johnson and Julia Dodds, an abandoned wife. She moved to
Memphis
to rejoin her husband in 1914, but soon divorced and re-married. As a teenager Robert, now known as Robert Spencer, moved back to the Clarksdale area to find his natural father, and at that point took his name. Robert played harmonica and was learning guitar, when he met
Willie Brown
, a local man who played 'second' guitar with
Charley Patton
at juke-joints and parties. Willie took Robert to Patton's home at the Will Dockery Plantation, where
Tommy Johnson,
Son House
and a host of other Blues-men came to play. It is said that Robert was was given his first guitar at Dockery, and he was certainly in a good position to learn from the men around him. Son House taught him some slide guitar technique, but Robert was also deeply influenced by his namesake Tommy Johnson. It wasn't just Tommy's intense guitar style and high falsetto voice that Robert copied, but this inveterate womaniser and drunkard often told friends and admirers that he had made a Faustian pact with the Devil to gain his talent for the Blues.
Both takes of 'Love in Vain', and both existing images of Robert;
The story of going to the crossroads at midnight to deal with the Devil is deeply embedded in Black Southern folk-lore, based on the West-African Yoruba tale of meeting Legba, the Trickster deity who would grant a wish but always got the best of the deal. When this is transposed into the Christian equivalent, it becomes an encounter with Satan himself. When Robert returned to Clarksdale after a few months spent playing the cotton towns along the Mississippi and over in Arkansas, his guitar-playing and song-writing had improved beyond recognition. Of course it was believed he must have sold his soul to acquire this fantastic talent, just like Tommy Johnson had claimed, but it is more likely he learned a new way to play from a shadowy figure called Zinneman who was reputed to practice in a graveyard! Robert used a mixture of slide and chording on his guitar, often with unconventional tunings, and this combined with the reach of his large hands and his use of 'walking' bass notes, gave his playing a unique quality. Robert never really did 'solos', but his graceful and inspirational style opened up new ways of playing, with the guitar and vocal lines seamlessly interwoven.
Robert was a generous teacher and he was responsible for developing the talents of his 'step-son' Robert Jr. Lockwood and the young Elmore James. Another young Blues player, Johnny Shines, befriended Robert and the pair spent three years bumming around together. Shines said, "He was a natural rambler. We used to travel all over: meet the pay-days in the lumber camps and track gangs: anywhere the money was. Played for dances, in taverns, on sidewalks: didn't matter where as far as he was concerned. Robert was a natural showman." Their travels took them to New York and Chicago, Texas, Indiana, Kentucky and even Ontario Canada, where they made a radio broadcast. When they hit a new town, word got round quickly, and it is questionable whether Robert left more Blues disciples or broken-hearted women behind. "His sound affected women in a way I could never understand," said Shines. "I said he had a talking guitar and many a person agreed with me."
Son House gives his first-hand account of Robert's transformation;
Don Law of ARC made a series of recordings of Robert's music in November 1936 in a San Antonio hotel room, and in June 1937 they cut further tracks in Dallas. This 90 minutes of Blues is arguably the most influential music of the 20th Century. There are 29 tracks in total, and a few  were released on the Vocalion label, making Robert several hundred dollars. 'Crossroads', 'Love in Vain', 'Dust My Broom' and 'Sweet Home Chicago' are classic tracks that have come down the generations, but there is a darker edge to much of the work. 'Me and the Devil' and 'Hellhound on my Trail' are among the songs that explore the struggle between good and evil, and of course they fed the myth of Robert's bargain struck at the crossroads.
The debt was soon called in. In August 1938 Robert was with
Dave 'Honeyboy' Edwards
playing a Saturday night gig at a juke-joint in Three Forks near Greenwood, Mississippi and Robert directed most of his songs that night towards a pretty woman in the audience. She was the wife of the owner and, after drinking his fill of whisky, Robert fell ill. He died a short while later of strychnine poisoning.
The Devil might have his Soul, but his Blues is alive and strong.
This fascinating film caused a stir when it purported to show footage of Robert playing;