St. James Infirmary Blues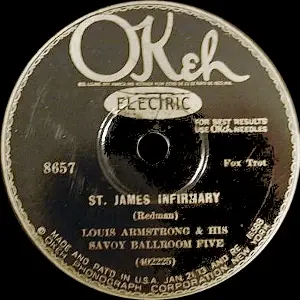 Who Birthed the Blues?
The first known recording of St. James infirmary Blues came in 1927. Then known as "Gambler's Blues," the dirge-like tale was recorded by Fess Williams and his Royal Flush Orchestra. Recorded in a minor key, its melody featured eight bars as opposed to the standard twelve so common in the blues. These subtle shifts away from the blues signaled a larger shift in the world of popular music. A style now known as jazz was well on its way to dominating the scene, and its brightest star played a huge role in popularizing St. James Infirmary Blues.
But first let's tackle a thorny issue – the compositional origin of St. James Infirmary Blues. Tracing the song to a single author or set of authors is complicated and the matter hasn't been fully resolved to this day.
The earliest published version of the song is credited to Carl Moore and Phil Baxter, but given how commonly folk blues songs would float around for years before being officially copyrighted, this hardly settles the matter. The song is sometimes credited to a composer known as Joe Primrose, who would later claim the rights to the song.
Complicating matters further is the claim by music historians, that the song was based on an 18th century English folk song called 'The Unfortunate Rake.'
The Blues Crossing the Atlantic
The controversy over the authorship of St. James Infirmary Blues did nothing to slow the song's progress. Louis Armstrong, by then a rising star in jazz, made a recording in 1928 that brought the tune to greater prominence. And yet, for all its well-travelled path from 18th century England to 20th century New Orleans, its resemblance to the original remained striking.
This blues classic played a giant role in establishing Louis Armstrong as a national treasure.
A version of 'The Unfortunate Rake" has reputedly passed through Appalachia in intact state:
As I was walking down by the Lock Hospital,
As I was walking one morning of late,
Who did I spy but my own dear comrade,
Wrapp'd up in flannel, so hard was his fate.
Louis Armstrong's version makes lyrical changes, but remains true to the song's spirit. The original song, after all, lamented the passing of a 'rake' (a person of dubious moral habits) and a 'lock hospital' was a hospital that treated venereal diseases. Similarly, the lamented figure of Armstrong's version seems to a prostitute.
I went down to St. James Infirmary,
Saw my baby there,
Stretched out on a long white table,
So cold, so sweet, so fair.
Let her go, let her go, God bless her,
Wherever she may be,
She can look this wide world over,
But she'll never find a sweet man like me.
Keeping St. James' blues alive
Perhaps more than any other traditional folk song, St. James Infirmary Blues has transcended genre, landing on America's shores as an Appalachian folk song before transitioning to the blues and skyrocketing to commercial success in the early world of Jazz.
But the song's journey hasn't ended yet. It's been covered by such wide-ranging talents as Lou Rawls, The Doors, Bob Dylan, Joe Cocker and The White Stripes. This tale of sadness seems to speak to a highly universal need in humanity – compassion for those often left out of the cultural mainstream.
When asked about The White Stripes cover of the song, Jack White claims to have been introduced to it from a Betty Boop cartoon.