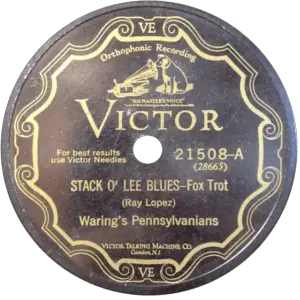 The story of Stagger lee (sometimes known as Stagolee, Stack O Lee and a host of other titles) begins on Christmas day of 1895 with a violent game of craps that would inspire regional folklore, taunts and, eventually, a legendary blues song.
'Stag' Lee Shelton, a fast-talking, high-living pimp spent his Christmas evening gambling in a St. Louis saloon with Billy Lyons. The two men were known as shadowy figures in the town's underground. When a dispute ensued over the result of a die's roll, Lyons settled matters by taking Stagger Lee's hat, a move he'd soon regret.
Stagger left the establishment, only to return with a gun, shoot his acquaintance dead and coolly recover his hat before returning home. Two years later he was convicted of murder.
Given the fertile nature of rumors and local legend, it's not entirely clear how much of Stagger and Billy's reputed encounter was the product of embellishment and ornamentation. But we do know that the basics are rooted in fact. Shelton's conviction and subsequent death in prison are matters of public record.
Soon fact would blend with fiction aided by a fledgling industry known as the music business. Shelton passed away in prison in 1912, but shortly after, something bigger was born: American folklore in the form of a blues song.
Stagger lee returns on wax
Documenting the earliest incarnation of a song inspired by ' Stag' Lee is a tricky, if not, impossible task. There are reports of a 'field song' called 'Stak-o-lee' performed by African-American laborers, but, as is common among folk songs of the era, no one is identified as its composer.
By the twenties, a few recorded versions – all instrumentals – emerged. The first, by a dance band called Waring's Pennsylvanians became a hit in 1923. Within a year, a few other versions followed – including a version by Lovie Austin (called Skeeg-a-Lee Blues) that contained lyrics. Now, the listener could hear a detailed account of the murderous act that gave birth to a local legend.
As the years floated past, fans of blues and dance music were fed a steady diet of new takes on the Stagerlee saga. Such diverse figures as Duke Ellington, W.C. Handy, Ma Rainey, Woody Guthrie, Louis Armstrong, Pat Boone and Cab Calloway played a role in developing Stager lee's legendary status. But it took a Louisiana crooner with personality to make it a chart topper.
Lloyd Price's rendition of Stagger Lee draws heavily on the swamp blues of Louisiana.
Staggerlee hits it big
Lloyd Price was a rhythm and blues singer whose nickname 'Mr. Personality' came from one of his hits, 'Personality,' a song that reached the top ten in 1959. But that song's success was dwarfed by his biggest hit, 'Stager lee' which topped both the pop and R&B charts later in the same year.
Price gives a spirited and dramatic account of Stag's story, accompanied by a buoyant dance beat and lively back-up vocals. By giving vivid voice to an encounter that might have ordinarily been relegated to the back pages of the newspaper, he keeps the folklore alive, and introduces it to millions too young to have heard the legend first hand.
Stagger Lee Lyrics
The night was clear
And the moon was yellow
And the leaves came tumbling down

I was standing on the corner
When I heard my bulldog bark
He was barkin' at the two men who were gamblin'
In the dark

It was Stagger Lee and Billy
Two men who gambled late
Stagger Lee threw seven
Billy swore that he threw eight
Stagger Lee told Billy
I can't let you go with that
You have won all my money and my brand new
Stetson hat

Stagger Lee went home
And he got his forty-four
Said, I'm goin' to the barroom just to pay that
Debt I owe

Stagger Lee went to the barroom
And he stood across the barroom door
He said, nobody move and he pulled his
Forty-four

Stagger Lee, cried Billy
Oh, please don't take my life
I've got three little children and a very
Sickly wife

Stagger Lee shot Billy
Oh, he shot that poor boy so bad
'Till the bullet came through Billy and it broke the bar
Tender's glass
More musical versions of the Stagerlee myth would follow, with composer credit often given to Lloyd Price and Harold Logan (they are given co-writer credit on Price's version).
The song would live on, covered by a dizzying array of bands and artists, each adding their own flavor to what was to soon to become a national treasure. James Brown, The Grateful Dead, Taj Mahal and Bob Dylan all did renditions.
It's often said that crime doesn't pay. And in the case of 'Stag' Lee Shelton it didn't – at least for him. But fans of the blues and blues-derived genres – R&B, pop, rock & Roll, jazz – have been reaping the musical benefits of Stager lee's homicidal act for decades.
The Taj Mahal interpretation of the story is from the album De Ole Folks at Home