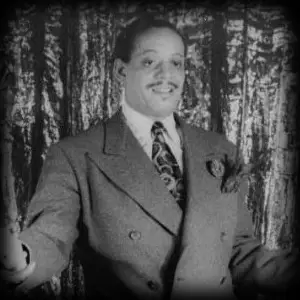 Tiny Bradshaw was a successful big-band leader in the 30s who re-invented himself as an R&B shouter after WWII, in the hey-day of Jump-Blues. He co-wrote many of his songs, including 'Train Kept Rollin' which was a much bigger hit for Johnny Burnette in 1956, and has become a rock standard, covered by many bands. With 25 singles released on the King label, Tiny was a regular visitor to the R&B charts in the early 50s with records that sounded a lot like Rock'n'Roll.
Myron Bradshaw was born in Youngstown, Ohio in 1907, and after graduating University with a psychology degree, decided to make a career in music. He started out with The Collegians, but when he relocated to New York in 1932, he played drums and sang with some big-bands. His strong, confident voice fronted The Bearcats and The Mills Blue Rhythm Band before Tiny joined The Alabamians, where he befriended Cab Calloway. The great showman and mentor gave Tiny the confidence to start his own band, and he quickly picked up a recording deal with Decca. They were not prolific on record, but like all big-bands of the day, they played live music almost every night. Tiny had a good ear for a horn player too, and Sonny Stitt and Red Prysock were just two of the many sax-players who got started in Tiny's band. Sonny was on Tiny's 1944 recording sessions, which already sounded like the R&B which was to dominate the industry in the post-War years. When the band returned from Japan, where they had been entertaining troops after WWII, Tiny decided to strip back the band and turn to Jump-Blues.
Tiny's original cut of his song 'Train Kept Rollin';
The change of style captured the post-War party mood, when young people wanted to cut loose and juke-boxes boomed with up-tempo dance music. With his big, bold voice and a driving sax-powered band, Tiny was picked up by King Records and a string of chart singles followed. The rowdy 'Tearing Up the House' was typical Bradshaw good-time stuff, and songs like 'Well, Oh Well', 'I'm Gonna Have Myself a Ball' and 'Walkin' The Chalk Line' all made the R&B Top Ten in 1950/51, some staying in the charts for months. In 1954, Tiny had a stroke that slowed him down a little and when the incident re-occurred two years later, he took some time off in Florida to recover. He returned to the studio in 1958, recording the saucy 'Short Shorts', but later that year a third stroke proved fatal. Tiny rode the wave of two great musical sea-changes of the mid-century, with his big band playing swinging jazz and his jump-blues combo taking off in the direction of R&B, and he also wrote a rock classic, all of which amounts to a fine career.