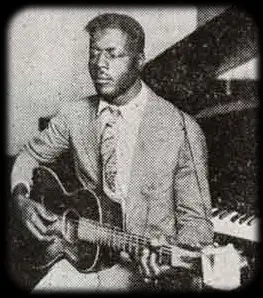 Willie Johnson was from Texas, and his haunting slide-guitar playing didn't slash and rage like some of his Mississippi Delta counterparts, but had a stylish, vocal quality that perfectly complimented his gruff, bass voice. Growing up playing for change on street-corners in East Texas towns, Willie became a Baptist preacher and all his life he used his songs to convey a religious message in a Blues style. The legacy of great songs he left behind are all deeply affecting testaments to his strong beliefs, and many have become influential Blues tunes too.
Blinded in an accident as a child, Willie grew up near Waco, Texas where he took a wife, Angeline. They moved to Dallas where, in 1927, Willie recorded for Columbia Records with his wife joining him on some backing vocals. All Willie's most famous songs had Gospel themes: 'Dark was the Night, Cold was the Ground', was about the crucifixion, and 'God Moves' was about the Titanic disaster. Willie also composed 'John the Revelator', 'Keep your Lamp Trimmed and Burning', and 'Soul of a Man', all of which have been covered many times down the years.
Further recordings took place in New Orleans and Atlanta, but Willie seemed to reject the possibility of success, and in 1930 he went back to playing on Dallas street-corners. Willie did not record again and when his house burned down in 1945, he slept in the ashes until he died, probably from pneumonia. When the Voyager spacecraft left the solar system carrying The Voyager Golden Record, containing music that represents our civilisation, Blind Willie's atmospheric 'Dark was the Night' was included.
Some deep philosophy from the preacher man;