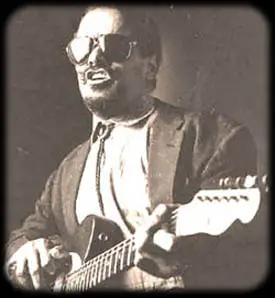 'The Human Jukebox' Snooks Eaglin was a major figure in post-war New Orleans Blues and R&B circles. From his beginnings as a blind street singer to a long career as a 'must-see' artist for visitors to the bars around the French Quarter, to a late series of brilliant albums on the Black Top label where he put his personal stamp on the Blues catalogue, Snooks was a much-loved figure in The Crescent City. Snooks knew literally thousands of songs, which he delivered with a soulful voice and a sense of humour, and his effortless guitar playing was nothing short of sublime.

Blind from early childhood, Ford (Fird?) Eaglin Jr. learned guitar from listening to the radio, where he also found a nick-name from Baby Snooks, a mischievous character in a radio show. Snooks warm and engaging voice and a certain physical resemblance to
Ray Charles
led him to perform as 'Little Ray Charles' for a while. His crisp and intelligent guitar technique saw him take on an incredibly wide range of music incuding Blues, R&B, gospel, folk and pop, all overlaid with his unmistakable style. Some early recordings for Folkways didn't make many sales, but when Snooks signed for Imperial in 1960 and came under the wing of writer and producer
Dave Bartholemew
, he must have hoped for better things. They recorded 26 tracks together, half of them written by Dave, and there was some great R&B among them, but somehow their time had passed and none of them were hits. Snooks moved to Prestige and recorded an album of acoustic Blues from
Lead Belly
and
Robert Johnson
to
Arthur Crudup
and
Amos Milburn
, but it didn't trouble the charts.
Snooks didn't record much over the next 25 years, except for one album with Robert Pete Williams, and a 1973 album produced by Sam Charters, 'Down Yonder', interpreting a series of New Orleans standards with pianist Ellis Marsallis and Clarence Ford on sax, but even this funky masterclass didn't make waves outside the region. Within The Big Easy, however, Snooks was a local legend. Never short of a place to play and gifted with the talent to pick up any tune, Snooks would always take requests from the audience and would sometimes make up songs on the spot, much to the bemusement of his band. He claimed to know 2500 songs, so that 'Human Jukebox' tag was well earned.
Effortless mastery of the highest order. Please Listen!!
In 1987, Snooks signed for the Black Top label and over the next few years put out a series of blistering albums. Snooks' guitar technique had a superb fluidity and a penetrating tone that adapts to almost any material and he just kept on doing it, each one better than the last. These albums really put Snooks on the map making him a favourite on the Festival circuit and he still loved to play in New Orleans. His final studio album, 'The Way it Is', was produced by the Scott Brothers of Black Top in 2002, and Snooks began to gig less often as age took its toll. This much loved and highly respected character passed away in 2009. `