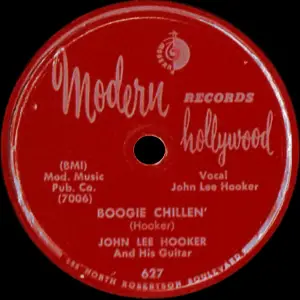 The Birth of Boogie
The seminal blues classic 'Boogie Chillen' began life in 1948, but like many early pillars of the blues world it was built on borrowed riffs, second-hand lyrics and decades of folk tradition.
Written and first performed by the legendary John Lee Hooker, the song would influence countless blues guitarists and inspire a highly popular 'cover' by ZZ Top.
The original recording featured Hooker unaccompanied as he strums the song's memorable hook, taps out the beat and growls the tune's vocals. This lightning bolt of a song struck the popular music world in 1949, quickly becoming the first electric blues song to top the R&B record charts.
Hooker has spoken openly about the debt his debut hit owed to those who boogied before him. Not only did he credit his stepfather with teaching him the guitar hook, he also adds, "I heard him do a song like that, but he didn't call it Boogie Chillen. But it had that beat and I just kept that beat up and I called it 'Boogie Chillen.'"
With an opening lyric -- "My mama she didn't allow me to stay out all night long" – from a previous hit called "Mama Don't Allow," Hooker's new hit was instant gold. Its impact on rock, pop and soul are still being felt today.
John Lee Hooker's classic stands out as few in the history of the blues have.
Rebirth of Boogie
The band ZZ Top was sued for copyright infringement in 1991 for their 1973 song 'La Grange.' The famous case would later lead to massive changes in copyright law, to protect many songs recorded before 1978 from entering the public domain.
Legal spats aside, John Lee Hooker's enduring classic has forever changed the way rock and blues guitar is played, and a quick stroll through rock and roll history will attest to its influence. Among the many songs that (legally or otherwise) bare a similarity to 'Boogie Chillen' are Norman Greenbaum's Spirit in the Sky, Whole Lotta' Love by Led Zeppelin and Slim Harpo's Shake Your Hips.
Boogie Chillun Lyrics
Well, my mama 'low me just to stay out all night long
Oh, Lord
Well, my mama 'low me just to stay out all night long
I didn't care she 'low, I would boogie anyhow
When I first came to town, people, I was walkin' down Hastings Street
Everybody was talkin' about the Henry Swing Club
I decided I drop in there that night
When I got there, I say, "Yes, people"
They was really havin' a ball
Yes, I know
Boogie Chillen'
One night I was layin' down
I heard mama and papa talkin'
I heard papa tell mama let that boy boogie-woogie
It's in him and it got to come out
And I felt so good
Went on boogin' just the same
Top of the Heap
When all the litigious dust has cleared, ZZ Top's La Grange still stands out as the most spirited and demonically charged homage to Hooker's original. It takes a simple one-man boogie and detonates it into a something Hooker would have blended right into. Above all others who have 'borrowed' 'Boogie Chillen'" the legendary Texas blues rock band understand that it isn't a song so much as an explosion of foot-tapping boogie.
ZZ Top's La Grange is exactly what a tribute should be – an electrifying reimagining.