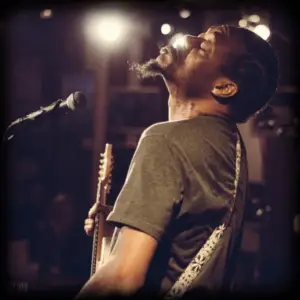 Born into the Blues
Eric Gales couldn't have asked for a better upbringing to introduce him to the world of the blues. Born in the blues-friendly town of Memphis Tennessee, one of his older brothers, Manuel (better known as Little Jimmy King) had achieved great success as a star in the blues world. With this background and pedigree, it should surprise no one that Eric found a footing in the music world very early. He signed with Elektra Records as a teenager and released his first album, The Eric Gales Band, in 1991.
Finding Fame Early
Shortly after the release of his debut, Gales was named 'Best New Talent' by Guitar World Magazine's Reader's poll. Also two singles from the album – 'Sign of the Storm and Paralyzed – both garnered massive radio airplay and chart success. Meanwhile, Gales' face became familiar among TV viewers as the young blues star made multiple appearances on the small screen, most notably on the Arsenio Hall Show.
Jumping the Borders
Eric Gales and his gifted collection of band mates weren't yet done gaining exposure. A few years later, he performed at Woodstock '94 with Carlos Santana. And if playing with a legendary figure in Latin rock seemed an unlikely move blues singer, it would be helpful to consider Gales' own words:
"I play the blues, but I also jump borders and boundaries. I'm not the kind of artist that wants to be boxed in by one style or one genre of music. That would be a terrible feeling."
Border Jumper for Life
A series of successful releases followed. Among them were: 1995's Lil E—Playa for Life, The Gales Brothers: Left Hand Brand and 2001's That's What I Am. The first was notable in part because of its use of his distinctive nickname, Lil E, the name he would record under when performing with various hip-hop bands – and unsurprising move for a man so intent on moving beyond the Blues' traditional boundaries.
His love of stretching beyond music borders aslo brought him to an album called, Power of Soul: a Tribute to Jimi Hendrix. As the title suggests, the project was a heartfelt ode to the work of one of Gales' biggest childhood influences.
True to the spirit of Jimi Himself, the album features a breathtaking range of perfomers, including Prince, Eric Clapton, John Lee Hooker and Sting. Eric's contribution was a cover of the ballad 'May This Be Love.'
Recommended Album
Eric Gales' Middle of the Road gives any Gales fan exactly what they're seeking – and more. Not only does he and his gifted band deliver the traditional blues like few others around today, but he also gives us a healthy dose of surprises.
Been so long, for example is driven by a reggae/ska beat and Repetition borrows an attitude from the world of hip-hop. Boldly slipping past the boundaries of traditional Blues is something Gales excels at. And it is what makes Middle of the Road such a breathtaking ride.
Middle of the Road
As an Amazon Associate I earn from qualifying purchases.
A New Experience
More recently Gales has teamed up with a gifted group of fellow musicians to form a touring tribute to Hendrix. Those included were former Band of Gypsies member Billy Cox, Eric Johnson, Chris Layton, Bramhall II, Brad Whitford and original Experience member Mitch Mitchell shortly before his passing.
The Band Jumps on
On his latest effort, Middle of Road, he sounds and vibrant and passionate as ever. In addition, it seems his habit of expanding the boundaries of the Blues is still very much his guiding principle. The album feature elements of hip-hop, reggae and rock, all while staying true to his Blues roots.
Eric Gales - Block The Sun