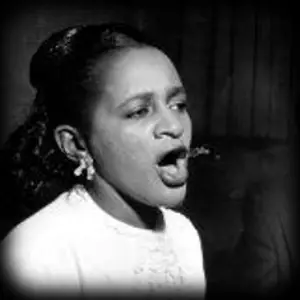 Clara Ward was controversial figure in Gospel circles, as she took the music out of the Church and onto the nightclub stage, where her fabulous voice influenced a generation of Soul and Blues singers.
Sparkling costumes and towering wigs would eventually see Clara and her Ward Singers playing Vegas, and that was anathema to the stern guardians of the Church.
Nevertheless, Clara's soaring alto voice, her scintillating phrasing and her skill as an arranger marked a great contribution to 50s R&B.
Clara was born in Philadelphia PA in 1924 to a classic 'stage-mother', Gertrude, who was the powerhouse behind her daughter's success.
Singing and playing piano, Gertrude enlisted Clara and her sister Willa into a family vocal group that was the sensation of the 1943 National Baptist Convention.
The group was a huge success touring Baptist churches all over the country, adding singers like Marion Williams and Sarah Vaughan to their line-up and employing a 'switch-lead' vocal presentation to keep the energy high.
Clara was a skilled pianist and arranger, and often stepped out of the spotlight to let the other Ward Singers take centre-stage.
During the early 50s, they often toured with the Rev. CL Franklin, and his daughter Aretha saw Clara as something of a mentor.
Royster takes the lead in this stunning performance; Clara is second from the left;
The Ward Singers had a substantial R&B hit with 'Surely God is Able' in 1955, and they often appeared with an electrified band including slide and lap-steel guitars.
They were frequently recorded at concerts and in the studio, and were the best selling Gospel act of the late 50s and early 60s, and the main outlets for their live act were nightclubs, Vegas hotels and even Disneyland!
The costumes and wigs grew ever more outlandish, but Clara's electrifying vocals brought a timeless quality to the proceedings, with her vocals ranging from deep Gospel moans to eye-wateringly beautiful arpeggios.
As the 60s progressed, Clara's health began to decline, and she retired from performing. She went to meet her maker in Los Angeles in 1973.