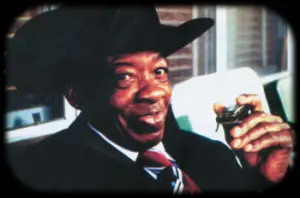 Virtuoso harp player DeFord Bailey made a living playing for dances and parties around his home town, displaying a range of riffs and trills that any modern Blues harp player would envy. His live performances always had a comedy element, as he used his harp to imitate a railway engine, a wheezing jalopy, or any of a dozen farmyard animals, but he could blow the Blues too. His 'Pan-American Blues' is a classic and his version of 'John Henry' may be the best ever recorded.
DeFord was born in Smith County TN in 1899, and suffered from polio as a child, and he learned to play while confined to bed. He moved to Nashville as a teenager, and was the first black artist to play on the Nashville radio program 'Grand Ole Opry' in 1925 where he was a fixture on the show until 1941. DeFord's eclectic music lent itself to Blues and country genres, and he described his style as 'black hillbilly music'. He recorded harmonica solos for the Brunswick and RCA labels between 1926 and 29, but did not record in the 30s, concentrating on radio and live work.
DeFord's outstanding version of 'Stone Fox Chase';
A dispute with BMI/ASCAP in 1941 saw DeFord sacked from his radio job, and he retired from music. For the rest of is life, DeFord made a living shining shoes and renting rooms in his house in Nashville, and was not inclined to participate in the Folk/Blues revival of the late 50s. He made a single appearance at a 'Grand Ole Opry' old-timers event in 1974 (see video) but still was not interested in a performing career. He passed away in Nashville in 1982.