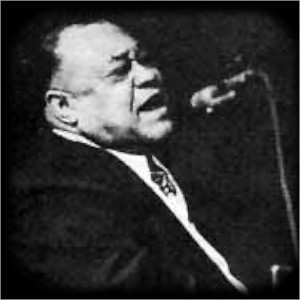 'The Honeydripper', Roosevelt Sykes was probably the most important of the several piano Blues innovators who came out of St.Louis the inter-war years.
This square cut figure with the elegant suit and the fat cigar was capable of pounding the keys in a rowdy barrelhouse style and he could boogie-woogie with the best of them, but he also introduced a complex, jazz influenced phrasing that sounded more urbane and 'modern' that his contemporaries.
Roosevelt was born near West Helena AR in 1906, but his family moved to St. Louis when he was a baby. Both parents died and he was raised by his grandmother back in West Helena.
His grandfather was a preacher and Roosevelt was allowed to play the family's organ, soon transferring his skills to playing piano in the local bars.
He met pianist Lee Green, who was making a living accompanying silent movies, and when the older man left town, Roosevelt tagged along.
The pair would hobo back and forth between St. Louis and New Orleans and the youth learned all there is to know about playing barrelhouse style.
Basing himself in the 'wide-open' city of St. Louis, Roosevelt was always on the move, widening his range to include Memphis and Chicago. In 1929, he was offered the chance to record for Okeh in New York and the success of his '44 Blues' and 'Boot that Thing', (a version of 'Pinetop's Boogie') led to further recording work.
44 Blues is a beautiful, slow, drag-out piano blues;
Like many Bluesmen, he recorded for several labels at the same time, using the aliases Dobby Bragg, Papa 'Easy' Johnson and Willie Kelly.
Still based in St. Louis, Roosevelt continued to travel, occasionally working as a talent scout and often in the company of another pianist, 'St. Louis Jimmy' Oden, who wrote the classic 'Goin' Down Slow'.
Recommended Album
This great 1961 session captures 'The Honeydripper on great form, and the remastered sound is crisp and clear.
In 1935 Roosevelt signed for the British Decca label and he put down more than 60 tracks for them. Many of these were released under the name 'The Honeydripper' after the title of the Joe Liggins number that became one of Roosevelt's best selling songs, but the most well known are probably 'Drivin' Wheel' and 'Night Time is the Right Time'.
By the late 30s, Roosevelt had settled in Chicago where he was soon in demand as a session pianist for the Bluebird and Bullet labels. He backed artists of the calibre of Memphis Minnie, Washboard Sam and Lonnie Johnson when he wasn't performing and recording his own material.
'The Honeydripper' was a big record for Roosevelt;
In 1944, Roosevelt formed The Honeydrippers, a band with horns, and this rollicking outfit recorded and toured for nearly a decade.
Roosevelt moved to New Orleans in 1954 where he took up residency at the Opera House Club and later the Golden Eagle Saloon.
He could still be seen in Memphis and St. Louis and kept on recording, notably with Dave Bartholemew in the Crescent City. When the Europeans came calling in the early 60s, Roosevelt answered that call, becoming a popular figure on the Folk/Blues Festival circuit.
He cut several albums in Denmark and Paris, including memorable sets with his long-time admirer and some-time imitator, Memphis Slim.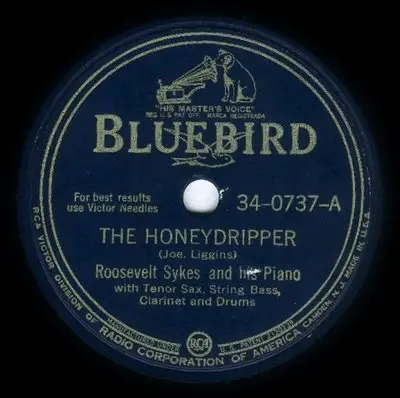 Other fine records include 'Feel Like Blowin' My Horn' which has Robert Jr. Lockwood on board and 'Grind It', six tracks recorded at The Ann Arbor Blues Festival in 1973.
As he eased into his seventies, Roosevelt moved out to the Gulf Coast, where he could indulge his love of fishing and cut back on his music commitments. He would play often in New Orleans and tour only occasionally but his voice and piano playing remained strong to the end, which came in July 1984.