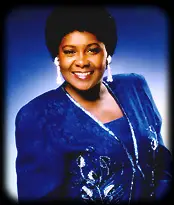 'Misty Blue' was a big cross-over hit for Dorothy in 1976, as the perfect vehicle for her Southern flavoured soul-blues voice. Born in Jackson MS, the daughter of Mississippi Blind Boys' Melvin Hendrex, Dorothy began singing in Gospel choirs, eventually emerging as a soloist.
As a student at Jackson State University she formed a girl-group 'The Poppies', who recorded for the Epic label. They toured with several souls acts before Dorothy went solo and signed for Malaco Records, where she recorded her heart-rending Blues ballads.
After 'Misty Blue', was a huge hit all over the world, her songs 'Funny How Time Slips Away' and 'I Believe You' both rode high in the R&B charts, but as Disco swamped the market, Dorothy withdrew. She went back to her roots with with a Gospel album, 'Giving It Straight to You' in 1986, and recorded steadily through the 90s for her old company, Malaco, until she set up her own label, Farish Street, which has issued her records since 2002. The label honours the street in Jackson MS, where Dorothy started out singing at The Alamo Theatre, and she still supports this fine historic venue.