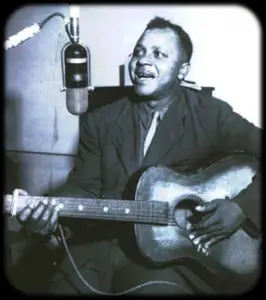 Big Joe Williams was a classic Mississippi Delta Bluesman. This gruff voiced, awkward fellow with his nine-string guitar had played in jug-bands and minstrel shows; he had wandered all over the South 'riding the blinds' as a hobo; played for tips on street-corners and juke-joints and then, when he moved to Chicago, wrote some songs that are still played every day. Later, when he began touring the world as one of the men whose original Blues style had changed our music, he presented a wild eccentric figure that no-one who saw him perform will ever forget.

Not to be confused with the Georgia singer Joe Williams who fronted the Count Basie Orchestra, Big Joe picked up guitar in his hometown of Crawford MS, where he was born in 1903, and crossed the State line to join the Birmingham Jug Band that recorded for the Okeh label in 1930. This was a loose arrangement that allowed Big Joe to continue hitch-hiking around the Delta juke-joints and East Texas lumber camps, occasionally hooking up with the Rabbit's Foot Minstrel Show and, in the process, developing his own very personal style of country Blues. Improvising a nine-string guitar, Big Joe slapped and bashed his instrument like a drum and his style of playing the lower strings pre-figured some bass-guitar riffs as he bellowed out his huge collection of songs.
Big Joe's song 'Baby Please Don't Go' became a Blues standard;
Big Joe's travels took him to St. Louis in 1934 where he played with his cousin JD Short and, through him, met Lester Melrose. As a producer for Bluebird Records, Melrose was quick to sign Big Joe and his song, 'Baby, Please Don't Go' was a big hit in 1935, as was 'Crawlin' Kingsnake' in 1941. A ten year partnership with Bluebird led to Big Joe recording with John Lee 'Sonny Boy' Williamson, Robert Nighthawk, Henry Townsend and St. Louis pianist Peetie Wheatstraw. Dave 'Honeyboy' Edwards was one of the young players who learned a lot of technique from Big Joe's impressive stage performances. When he went electric, again rigging up a nine-string guitar, Big Joe fixed tin plates and cans to his amp to create a wild buzzing sound. His personality was pretty wild too, always fighting and awkward as a mule, he was not interested in playing with a band and his collaborators had to learn to do it Big Joe's way.
Check out this great selection of Big Joe's tunes;
An enormous repertoire of old Blues and folk songs enabled Big Joe to record for at least seven labels as the originators of the Blues were 're-discovered' in the late 50s. Such an eccentric character was custom-made for the coffee house, college and Festival circuit. He toured Europe several times in the 60s and, in 1965, recorded the album 'Hand Me Down My Old Walking Stick' in London. By the 70s, Big Joe had attracted several film-makers, and appeared in the documentaries 'The Devil's Music', 'Blues Odyssey' and 'Good Morning Blues'. He expanded his touring to include Japan and was welcomed as a guest by more modern players like
Charlie Musselwhite
and
Mike Bloomfield
.
Big Joe had a style all of his own and when he passed on in 1982 in Macon Mississippi, the Blues lost one of its true Originals. His percussive, driving rhythms, judicious use of the bottle-neck on his wierd guitar and his powerful and versatile voice took us back to another age.