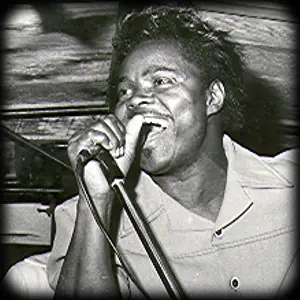 It is easy to write off Ernie K-Doe as a one-hit-wonder, despite his good total of R&B Chart entries, but they were all overshadowed by his monster 1961 hit 'Mother-in-Law' which went to Number One in the Billboard Hot 100 as well as the R&B chart. While he never came close to repeating that feat, Ernie's good-time New Orleans R&B was popular for a decade and then his work as a local DJ, his charity work, his flamboyant publicity stunts and his club The Mother in Law Lounge, made him a New Orleans institution.
Born on a Mardi Gras day in 1936, Ernest Kador Jr. was the son of a Baptist minister, and the boy joined his father's church choir when he was seven. As he grew, Ernie joined several Gospel groups around the city, but he also won a few talent contests singing R&B tunes. When the family moved to
Chicago
, Ernie sang with The Flamingos and The Moonglows before making his recording debut with The Four Blazes on the United label. Returning to New Orleans in 1954, Ernie joined The Blue Diamonds and also began performing solo. He cut several singles for the Specialty and Ember labels billed as Ernie Kado, and eventually Ernie K-Doe.
Allen Toussaint
signed Ernie to the new Minit label in 1959 and they formed a productive partnership. Ernie's first single flopped but the second, 'Hello My Lover' was a regional hit, selling upwards of 100,000 copies. Allen wrote and produced Ernie's third release, 'Mother-in-Law' which went to the top of the pop charts as well as the R&B listings. With its funky tune, cynical lyric and Ernie swapping lines with Benny Spellman's bass vocals, this record suddenly made Ernie a big star.
Ernie's big hit 'Mother-in-Law', with photos of his club;
Ernie toured the country singing his big hit and several follow-up records, like 'Te-Ta-Te-Ta-Ta', 'Popeye Joe' and 'A Certain Girl' (later covered by The Yardbirds) made a good showing in the Billboard R&B charts. When Minit folded, Ernie switched to the Instant label, and then moved on to record for Duke, where he again took a couple of singles into the R&B charts, but even re-uniting with Allen Toussaint at his Sansu studio couldn't repeat that early success. The 70s were a lean time for Ernie as he struggled with alcohol problems, but he re-invented himself in 1982 as a radio DJ. Adopting an explosive persona with vocal hooks and catch-phrases, Ernie dressed in a big cape at his personal appearances, where he raised a lot of money for charity, and began calling himself 'Emperor of the Universe'. He opened a club, The Mother-in-Law Lounge, which had a life-size statue of Ernie, and he continued to gig and record in his home town for the rest of his life.
Ernie's 'A Certain Girl' hit the spot for British Mods in the 60s;
Ernie passed away in 2001 and, after a real New Orleans funeral, he was interred in the same tomb as his friend
Earl King
and also, with no trace of irony, his mother-in-law with whom he was very close! When Ernie's club was destroyed by Hurricane Katrina, his widow Antoinette launched a campaign to have Ernie elected Mayor of New Orleans as a fund raising stunt. He didn't get many votes but the club was restored and, although sadly Antoinette has since passed on, the name of Ernie K-Doe, showman, eccentric and great singer remains part of the fabric of New Orleans.