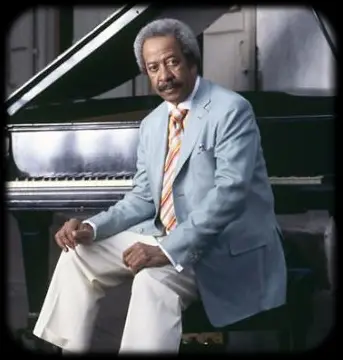 The Godfather of funky New Orleans R&B, Allen Toussaint's talents as a singer, pianist, songwriter, producer and arranger shaped the sound of The Crescent City for decades.
As a solo artist Allen had a worldwide best-selling record with Southern Nights in 1975, but arguably his most important work was the vision he employed in the studio to guide other people towards bringing out the best in their music.
He wrote quite a lot of their hit songs too!
Born in New Orleans in 1938, Allen grew up with Gospel music, and playing piano in the style of Professor Longhair, Huey 'Piano' Smith and Fats Domino. When he was 17, he got a break when he sat in for Huey Smith one night in Earl King's band. Allen was playing in The Flamingoes with Snooks Eaglin and he started hanging out at Cosimo Matassa's J&M Studio where he came under the influence of his mentor, the producer and trumpeter Dave Bartholemew.
Dave had Allen play on a backing track for Fats Domino's 'I Want You to Know', and further studio work soon followed. In 1958, he cut a rocking instrumental album for RCA, including his composition 'Java', where he was billed as A Tousan, and when Joe Banashak set up his Minit label the following year, Allen joined as an A&R man.
He wrote and produced Ernie K-Doe's No.1 R&B hit 'Mother-in-Law'; wrote and produced 'Fortune Teller' and 'Lipstick Traces on a Cigarette' for Benny Spellman; and produced and co-wrote Lee Dorsey's R&B No.1, 'Ya Ya' on the Fire label.
Allen's unmistakeable voice and funky production on show here;
Music took a back seat in 1963-65, as Allen served in the Army. Back in New Orleans, Allen joined with Marshall Sehorn to form the Sansu label and produced a run of big hits for Lee Dorsey, including Allen's songs 'Ride Your Pony' and 'Working in a Coalmine'. The house band on these hits was The Meters, and they also backed Irma Thomas, Chris Kenner and Ernie K Doe in their regular visits to the R&B and Hot 100 charts. Art Neville was the leader of The Meters and Allen produced their funky R&B sound on the series of big singles and albums that led the funk explosion of the 70s. Allen put out a self-named album in 1971, and set about building his Sea-Saint Studios, where he recorded his defining solo album 'Southern Nights' which made his name around the world in 1975, and when Glen Campell covered that song the sales figures were truly massive. Allen produced Dr. John's 'Right Place, Wrong Time' and Labelle's 'Lady Marmalade'; albums by stars like Etta James, Albert King and Elvis Costello; and his extensive songbook was covered by artists as diverse as Devo, Bonnie Raitt and Robert Plant.
Recommended Album
A talent as broad as Allen's is hard to sum up, except by his songbook.
In 1996, Allen formed NYNO and used it to issue his 'Connected' album, featuring an appearance by Dave Bartholemew. Part of NYNO's brief is to support talent coming out of New Orleans, a project that Allen took very seriously, along with his support for reconstruction after Hurricane Katrina. That disaster washed away Allen's house and studio, and after a spell in New York, he was persuaded by his many admirers to take his music to the world, long past the time when most people have retired. With his distinctive, laid-back voice and his sublime piano skills, Allen continued to exemplify and inspire the music of New Orleans continuing to work in the studio, as well as playing club gigs at places like London's Ronnie Scott's and Festivals like the New Orleans Heritage event, but sadly he passed away from a heart attack shortly after leaving the stage on tour in Madrid in November 2015.
Allen's unmistakeable voice and funky production on show here;