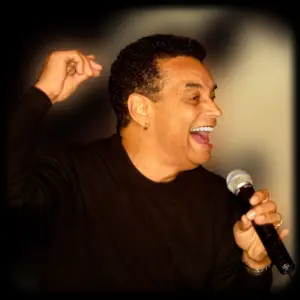 In the late 50s R&B was in a strange place. The excitement generated by early Rock'n'Roll had drained away; traditional Blues was seen as old-fashioned in the post-war boom years; electric Chicago Blues was largely confined to the African-American community, and Soul, Motown and the British Invasion were still years away, so kids would dance to sax and piano driven music like Gary 'US' Bonds records. Powered by the work of sax-man Gene Burge, Gary's high-energy party music was all over the charts and the radio. He wrote most of his own songs and that writing talent sustained him when his own hits dried up, and he came back as strong as ever.

Gary Levone Anderson was born in Jacksonville FL in 1939, and learned to sing in church. In the mid 50s, he joined the Legrand label and producer Frank Guida changed his name to 'US Bonds' after a Government savings scheme being widely publicised at the time. Gary's first single 'New Orleans' was a national hit, but his third single 'Quarter to Three' really made his name as it went to No.1 in the Hot 100 and sold over a million copies. On these singles and the subsequent album, he was billed as 'US Bonds' but people thought that was a group, so he added his forename and has been known as Gary US Bonds ever since. Further hits like 'School is Out' and 'Twist, Twist Señora' saw Gary regularly in the charts and on his 1963 European tour, the support band on the British section was The Beatles! The late sixties were not kind to Gary, but he kept writing songs in many styles and his 'She's All I've Got' was a big country hit for Johnny Paycheck in 1972.
Gary drives those girls crazy with 'Quarter to Three';
However, Gary's hard-driving, sax-driven songs were an inspiration for a new generation of rockers like Southside Johnny and Bruce Springsteen, who collaborated on Gary's first two comeback albums in the early 80s. He has often appeared with his younger admirers, and Gary continues to record and tour with his band The Roundhouse Rockers as he takes his high-energy R&B to the world.