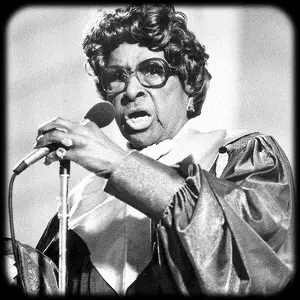 'The Mother of Gospel Music' may have preferred Sacred songs to 'the Devil's Music', but her uninhibited and passionate vocal style had a lot in common with the best Blues singers of the day. As a famous exponent of the Rev. Thomas A Dorsey's compositions in the 30s and a co-founder with him of The National Convention of Gospel Choirs, Sallie was a big noise on the Gospel scene for almost 70 years.

Sallie was born in Pittfield GA in 1895, and joined the local Fire Baptised Sanctified Church when she was about 20. Inspired by the unfettered, emotionally charged atmosphere of the Pentecostal Church, Sallie became an enthusiastic singer. She married and moved to Chicago but after her divorce in 1929, she devoted herself to the church. Despite not being able to read music, she persuaded the
Rev. Dorsey
to accept her into his choir and her vigorous performance eventually got her some solos. Sallie was a great organiser and a shrewd businesswoman and she helped Rev. Dorsey to set up his music publishing company, and served as a vice-President of the National Convention of Gospel Choirs from its inception to the day she died.
Sallie could still belt it out when she was in her 80s!
Sallie went on tour as a singer and on one trip she was accompanied by a young pianist called Ruth Jones, who would later find fame as Dinah Washington, but their partnership didn't last long. Sallie's business relationship with Rev. Dorsey also broke down in 1940, and she set up her own music publishing firm with composer Kenneth Morris, and Martin & Morris became the biggest Gospel publisher in the country. In the mid-40s, Sallie formed The Sallie Martin Singers which included her daughter Cora and the young Brother Joe May, before he got a solo recording contract. Sallie's Singers recorded for the Specialty label between 1950-53, and Sallie and Cora traded leads on most of the tracks. 'Just a Closer Walk With Thee' was one of the few recordings that caught the attention of more than just the Gospel faithful, but the whole catalogue has been re-issued as 'Throw Out the Lifeline'.
When Sallie hit 60 years of age she retired from performing, but she re-formed the Singers to record some sessions for Vee-Jay in 1963. For most of the 60s, Sallie's main focus of attention was the Civil Rights movement, and also the Independence movement in Africa. She continued to be active in the worlds of Gospel music and charitable work until she passed away in Chicago at the age of 92.