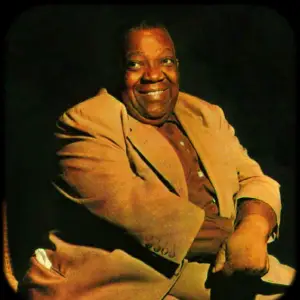 'Mister Five-by-Five' was probably the loudest Blues Shouter of them all. Fronting the Count Basie Orchestra, Jimmy Rushing was still capable of injecting great emotional force into his performances at a volume that barely needed a microphone! His careful phrasing brought the Blues into the repertiore of swing bands as Count Basie's front-man; his up-tempo Jump-Blues was popular in the post-WWII era; he continued as a solo artist from 1950; and he appeared in films and at Festivals all over the world in the 60s. Jimmy got the 'Five by Five' tag from a 1942 song by Ella Mae Morse, and that big voice came from a very solid foundation.

James Andrew Rushing was born in Oklahoma City in 1901 into a family in love with music: his father played trumpet and his mother and brothers were all singers. Young Jimmy learned violin and piano, and enrolled at Wilberforce University to study music. He dropped out of college to go to California, where he played the club scene for a while, singing with Jelly Roll Morton on occasion. Returning to the mid-West, Jimmy joined bass-player Walter Page's Blue Devils in Kansas City, where they recorded for Vocalion in 1927. He met Bill 'Count' Basie and both men joined Bernie Molin's Big Band in 1929. When Bernie passed away, Count Basie started his own Orchestra, with Jimmy out front and Lester Young on tenor sax. Basie's band favoured an up-tempo 'Kansas City Stomp' dance music that formed the foundation of jump-Blues. Jimmy's extrovert vocal style gave the band great energy and their performances at the Apollo Theatre, and the Savoy and Roseland Ballrooms fuelled the jitterbug craze in New York.
Jimmy singing with Benny Goodman's band;
When Basie broke up his big band in the late 40s, Jimmy retired, but soon came back with his own band. Throughout the 50s they put out swinging Blues-based albums that sold well without becoming big hits. Jimmy joined Basie at the 1957 Newport Jazz Festival and his collaborations with Dave Brubeck, Clark Terry and Earl Hines in the 60s yielded some great albums and spectacular performances. Jimmy could handle a sensitive ballad as well as belting the Blues, and some of his 60s recordings could have easily have been categorised as Soul music. In 1971, Jimmy was diagnosed with leukemia, and he passed away a year later.