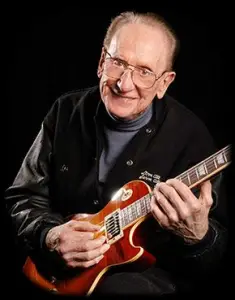 Les Paul invented the first effective solid bodied electric guitar. The Gibson Corporation rejected 'The Log', an electric guitar Les put together after hours in the Epiphone factory where Les worked in 1940, but when Leo Fender put out his 'Esquire' ten years later, they called him back! Les designed the guitar that carries his name, and when Gibson altered the design a few years later to give it a double cutaway body, Les persuaded them to call that an SG (solid guitar) and continue his design as the 'Les Paul'. This instrument went on to become an iconic object in the world of guitar music and is still in production today. Les came up with the idea of multi-track tape recording, and went on to pioneer many innovative studio techniques. As a jazzy guitar player, he had a long string of big hits with his wife Mary Ford in the 50s, making many TV appearances and chart records.
Lester William Polfuss was born in 1915, into a well-to-do family in Wisconsin. He played harmonica as a kid, and when he wanted to play guitar at the same time, designed his own neck-brace. An innovative guitarist with a complex, jazzy style, Les recorded some country songs as 'Rhubarb Red' in 1936 while living in Chicago, and he formed a trio with Chet Atkins' brother Jim. Les wanted to make a loud guitar that could be heard above a band, and experimented with a heavy 4×4 timber and electric pick-ups in his apartment. While employed at the Epiphone factory, he worked after hours to construct a more refined version he called 'The Log', which was a prototype of the guitar that would later bear his name, but the management weren't interested. Les was drafted into WWII, and while stationed in California he recorded with Nat King Cole, played on Bing Crosby's radio show and accompanied The Andrews Sisters many times. He also met a singer called Colleen Summers, who used the stage name Mary Ford, and the couple were married in 1949 with
Steve Miller
's Mom and Dad as Maid of Honor and Best Man!
Les is joined onstage by Chet Atkins;

Les and Mary became an iconic American couple in the 50s with a long string of big pop hits, releasing more than 30 singles, as well as Les's instrumentals which included a Grammy-winning collaboration with Chet Atkins. As a producer, Les often recorded Mary's voice with overdubs to make her sound like a harmony group. Bing Crosby had helped set up The Ampex company to develop the German Magnotophon tape technology, and Les came up with the idea of 'Sound on Sound' recording. Les went on to pioneer multi-track recording, helping Ampex to design an 8-track machine, and was one of the first to use tape-delays, 'multiplying' and close-mic recording techniques. Les and Mary had a daily radio spot that transferred to TV after a couple of years, and when this five minute spot, aired five times a day, was syndicated all over The States, the couple became among the most famous people in the country.
Les retired from performing, except for a few guest appearances, in 1965 when the couple divorced. He suffered some health problems but returned to playing and recording in his later years, winning two Grammy's in 2006 and was awarded the National Medal for Arts the following year. Les played with a trio in a little jazz club in Greenwich Village every Monday night, with a constellation of stars sitting in, until he passed away in 2009.