Those who bemoan the modernization of the blues will find plenty to love in Johnny Rawls. He's an old-school bluesman, born and bred in Mississippi.
Old School in New Clothes
Handsome in a rough-hewn way, it's not hard to imagine Rawls spending his early life toiling in the fields and making spare change playing after hours juke joints for audiences who number in the single digits. In truth Rawls' views are more modern that one might suspect. Not surprisingly, Rawls describes his music as having "one foot in the past and one foot in the future. It is Old School updated for today."
Christmas Present Blues
Born in 1951 and raised in the Mississippi towns of Purvis and Gulfport, Rawls' early years sound like a fable of the blues. Indeed his life in this time-honored genre began one Christmas day when he heard his blind grandfather play the blues on guitar. The young Johnny accepted this gift from Santa and has spent the rest of his life relishing it.
It didn't take long for Rawls' talent to become apparent. He went on to play with such greats as Joe Tex, ZZ Hill, Johnny Taylor and the Sweet Inspirations before graduating high school. But the most important graduation of his young life was in going from side musician to band director for a singer named OV Wright. Born Overton Vertis Wright, Rawls' mentor had a highly successful career as a gospel-tinged soul singer. His influence on Rawls' style must have been enormous, undoubtedly lasting beyond his death in 1980. Although the band (now billed as the Ace of Spades Band) continued to play together for another thirteen years, Rawls also plied his talents as itinerant sideman for a dazzling array for impressive names in soul and blues music. Among the heavyweights he played with were Little Milton, B.B. King, Bobby Bland, Little Johnny Taylor and Blues Boy Willie.

Solo Johnny
The year 1994 represented an exciting new chapter in Rawls' life and career. He and fellow guitarist L.C. Luckett jointly released an album on the label Rooster Blues called Can't Sleep at Night. Two years later came the release of Here We Go – his first official solo album for JSP records. Four more albums for the label followed: Louisiana Woman, My Turn to Win, Put Your Trust in Me and Get Up and Go.
On The Road Again (and again, and again)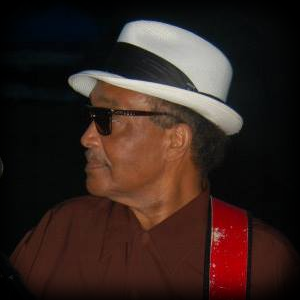 In the years that have followed, Rawls had made a switch to Catfood Records and furthered his legacy of brilliantly conceived blues albums. But in some ways, he's a throwback to the past days of the well-travelled blues man who made his living – and his reputation – mainly on the road. For Rawls this means much more than just getting accustomed to bad hotel room service. It means having (and keeping) an understanding of what audiences crave.
This mindset, for example, informs his sartorial choices in performance. In other words, Johnny Rawls is a man you'll never catch on stage clad in jeans and a t-shirt.

"To me, that shows a very low-class and very disrespectful taste. People like O. V. Wright, Johnnie Taylor and ZZ Hill and those guys, in the morning when they got up to go outside to eat breakfast, they made sure their hair was right, their shoes were shined, their shirts were starched, because they knew folks would see them and say, 'Hey, there's Johnnie Taylor.' And they wanted to keep their image up as artists, even when they weren't on the bandstand," said Rawls. "How can you look up to an artist wearing torn jeans and a dirty T-shirt?
And of course, it also means keeping the material fresh. When it comes to cranking out new material, Rawls' philosophy is "If God gives you the talent, it's not hard. And you know, everybody seems to be recording cover tunes. Everything is cover, cover, cover, cover, cover. To me, the blues can't grow and reach new people if artists keep covering "T-Bone Shuffle" 10-hundred, million times".
There's no mistaking where Rawls stands. He's an old-school guy, who loves to keep the blues new.