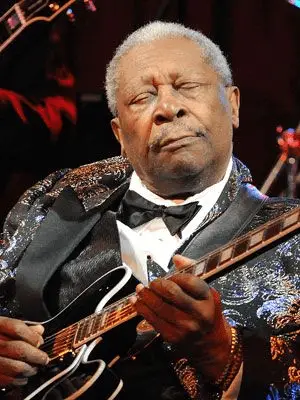 When BB King played the Blues, the sound was unmistakeable. Often playing off the beat, with the notes twisted and sustained, his guitar playing had a distinct quality of human speech, in this case the voice of an elegant lady named 'Lucille'. BB fused a Delta guitar sound with a fluid jazz style (using lots of 6ths I'm told!), to tell an intimate story filled with joy, passion, pain and rage, and his vocal skills were of the hughest order too. The fact that he never mastered the 'bottleneck' slide technique used by so many of his Delta forebears led BB to use plenty of finger vibrato instead, like a cello player. Because of that, almost all the notes he played were bent or sustained, as he portrayed the deepest agonies and life-affirming humour with an ease that made him seem like a child messing with his playthings.
The result was a kind of magic.
Born in Indianola, Mississippi in 1925, Riley B King was the son of a sharecropper, and as soon as he could push a hoe he was working the fields himself. There was music in the family; his uncle Jack Bennett was a Blues shouter; his mother's cousin Bukka (Booker T Washington) White was a talented slide guitar player, and his Aunt Mina's record player introduced the young Riley to a huge collection of Jazz and Blues. As a boy, he sang with The St. John Gospel Choir, and at 16 was playing Blues guitar on local streetcorners. In 1947, Riley wrecked his boss's tractor and fled to Memphis to stay with Bukka White. "Man, I just picked up my guitar and ran!" (But he paid the farmer back as soon as he could.)

Pretty soon he began performing as 'The Beale Street Blues Boy', and he wrote to the DJ
Sonny Boy Williamson
at the 'King Biscuit Time' Radio Show on KWEM. He was invited to play a song live on-air, and this was good enough to get him a $25-a-week residency at Miss Annie's 16th St. Grill, and a radio jingle for Pepticon. Before long he had a DJ gig himself at WDIA Radio, playing Blues records on the 'Sepia Swing Club'. When WDIA got a 50,000 watt transmitter, BB (as he was now known) got an audience that reached from
Chicago
to New Orleans and covered most of the South and Mid-West. Along with other talented kids like
Junior Parker
,
Rosco Gordon
,
Johnny Ace
and
Bobby 'Blue' Bland
, he was also part of 'The Beale Streeters', an informal band that would play any party, bar or broadcast studio at short notice as long as there there was some cash!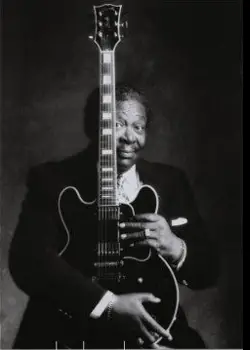 BB signed for Bullet Records in 1949, releasing tracks and gigging regularly with an ever-changing roster of backing musicians. They were playing a juke joint one night when two men got in a fight about a woman and knocked over the stove. There was a huge fire and everybody stampeded. BB rushed back into the blazing building to rescue his precious guitar, and from that day onwards he called his lovely Gibson "Lucille" after the woman at the heart of the trouble.
BB's 1951 track for Modern Records, '3 o'clock Blues' stayed on top of the Billboard charts for 15 weeks, and the next few years brought many hit records and nationwide tours. His Big Red tour bus was always rolling (in 1956 BB played 342 one-nighters) but like so many Blues players at that time, he had very little exposure except in black clubs and black radio stations.
The record label took a big chunk of BB's publishing credits, and touring a 13-piece band was never going to be a goldmine. The record sales, airplay and constant touring guaranteed him a living, but by the early 60's the Blues was dying. The impetus in black music was moving towards the newer sounds of R&B and Soul, and Blues was seen as old-fashioned, or even 'Uncle Tom ' music. Despite the energy you hear pulsing from the stage in Chicago on BB's 1965 recording 'Live at the Regal', the Blues was still a minority interest. BB was quick to acknowledge the shot-in-the-arm his music was given when it was exposed to new audiences, saying "Everything opened up then."
B B plays his breakthrough song;
Arguably
The Rolling Stones
brought the Blues back to America with 'The British Invasion', and when BB played San Francisco's Fillmore West in 1966 it was to a mainly white audience. Festivals at Montreux, Newport and many European tours and extensive TV appearances made BB a worldwide Blues star.
When he recorded an achingly beautiful version of 'The Thrill is Gone' in 1970, he set the seal on his greatness. In 1971 he released 'Live at Cook County Jail' and went on to play more than 60 prisons and he also set up a Prisoner Rehabilitation Charity (his Uncle Bukka had served jail-time).
Hits like 'When Love Comes to Town' and 'Don't Look Down' kept on coming, crossing into the 'pop charts' and getting lots of radio play. Every hot young guitarist wanted to record with BB, resulting in some legendary collaborations and guest spots. BB's personal output is over 100 albums. Countless Grammy's, Honorary Degrees and the Presidential Medal followed, making BB probably the most recognisable Blues player in the world, a National Treasure, and a direct link to the fields south of Clarksdale
where the Blues was first heard.
Tens of thousands saw BB play the Glastonbury Festival in 2011, (many millions more on TV) and if you closed your eyes as he bent those notes……..it could be nobody else!
B B plays Glastonbury;