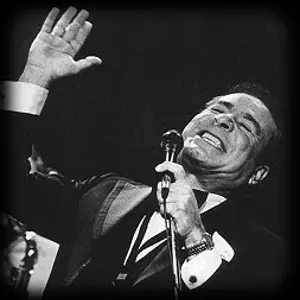 Louis Prima will be forever remembered as the voice of 'King Louis' in the Disney film of 'Jungle Book', and readers of a certain age will remember him as one of the biggest acts in Vegas during the 50s and 60s. However, in the late 30s, the swinging dance music played by his 5-man 'gang' was very close to the Jump-Blues and R&B that dominated the airwaves, juke-boxes and charts a decade later. Louis' distinctive, slurring, scat vocal delivery was also a blueprint for a lot of singers who came after him.
Born in New Orleans in 1910 to Italian parents who were keen for their kids to learn music, Louis studied violin, but when his cornet-playing brother Leon picked up a summer tour, young Louis grabbed his old instrument and began imitating his idol
Louis Armstrong
. At 17, Louis decided he would turn professional, but he spent many years haunting the clubs of New Orleans and New York without much success. Louis and his New Orleans Gang recorded for Brunswick in 1934, their fusion of Dixieland and Swing featuring the clarinet of PeeWee Russell and Louis' warm vocals. Louis was an irrepressible 'ladies man' who often married the singers he hired, but all his marriages failed due to infidelity. After a spell on the
West-coast
, and then
Chicago
, under the guidance of his friend Guy Lombardo, Louis expanded the band into a 'big-band' format but it was a financial failure, so back in the New York clubs he forged his 5-man 'gang' into one of the hottest acts on the East-coast.
'Jump, Jive and Wail' had audiences on their feet;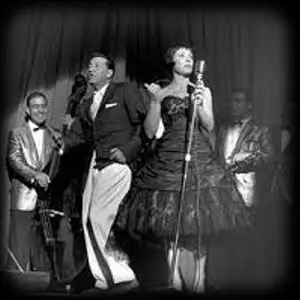 In 1936, Louis wrote and recorded 'Sing, Sing, Sing', and when Benny Goodman recorded it the following year it became a big national hit and a swing standard. The band were kept busy with tours and residencies, gradually growing into a full orchestra again as The Jump Band, and Louis was invited to play at The White House. WWII meant that musicians were drafted and recording halted, but when hostilities ended, Louis had big hits with records like 'Angelina' and 'Please No Squeeza Da Banana' and other up-tempo dance tunes. Louis met and (as soon as his latest divorce came through) married Keely Smith, a great singer whose stage-act was to play the 'ice-queen' while Louis leapt and cavorted around her, playing his trumpet and singing in that unique, swaggering voice. Louis also recruited New Orleans sax-player Sam Butera to form his tight little band The Witnesses, and they began playing regular lucrative seasons in Las Vegas. A record deal with Capitol produced some of Louis' most enduring material, including 'Just a Gigolo', 'I Ain't Got Nobody' and 'Jump Jive and Wail', earning Grammys and eventually an appearance at JFK's Inaugural Gala. Despite starring together in the Hollywood film 'Hey Boy, Hey Girl', Louis and Keely's marriage fell apart, so he recruited 21-year-old Gia Maione to take her place, but her singing didn't earn any money for his new Prima-One Records.
Louis landed more film rôles in rock films like 'The Young and the Cool' and 'Twist All Night', but it was to be his vocal performance in animation of 'The Jungle Book' that earned Louis his star on the Hollywood Walk of Fame. This success prompted him to make more records with a young band, like 'New Sounds' in 1969 and 'Blast Off!' the following year, but times had changed. Louis suffered a heart attack in 1973 which slowed him down, and persistent headaches were diagnosed as a brain tumour in 1975. Surgery left Louis in a coma, and he passed away in New Orleans three years later.