California is not the place you expect to find the Blues. It does not reek of the murderous working conditions of Chicago's killing floor, the hardscrabble existence of sharecroppers in the Delta, or the relentless dehumanision of production lines in Detroit and a hundred other industrial cities.
In fact, the low numbers of Black Americans in the population meant there was almost no West Coast Blues before WWII, except for Kid Ory's efforts in the early days of 'race music'. Black workers moved West during the War as manpower was needed in the defence industries, and continued to arrive afterwards attracted by the economic opportunities. That increasing population created a regional market, but the rise of Los Angeles as a centre for the Blues rested on two other factors.
Firstly, LA was the terminus of the Southern Pacific Railroad. Just as the 'Black Diaspora' had led people from the Delta to Chicago on the Illinois Central Line, and those from the Piedmont area to New York, those leaving Texas on the 'Sunset Route' arrived at the end of the line in LA. Secondly, LA was the adopted home of the music industry, with a strong tradition of independent labels such as Specialty, Imperial and Aladdin, and the Bihari Bros. group (RPM, Modern, Kent, Flair and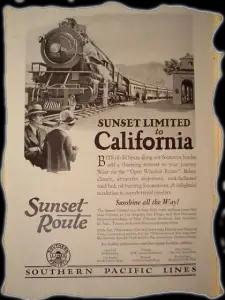 Crown) that seized on new sounds and gave them noisy promotion.
T-Bone Walker was the prototype Texas bluesman made good on the coast, and he was soon joined by Pee Wee Crayton, Lowell Fulson, Amos Milburn, Charles Brown, Johnny 'Guitar' Watson and Big Mama Thornton. Maybe West Coast Blues is just Texas Blues with more sunshine and better access to studios! T-Bone certainly set the Blues world alight in the early 40s with his searing electric guitar breaks, establishing new standards for lyrical, soulful instrumentals and influencing everyone who came after him.
Good time jump-Blues was a feature of the West Coast sound in the 40s;
[weaver_youtube http://youtu.be/8aCXs6Kin7M id=videoid sd=0 percent=100 ratio=0.5625 center=1 rel=1 https=0 privacy=0]
The first post-war music trend was jump-blues, an up tempo fusion of jazz and blues that was not a big stretch for players steeped in the light country blues of Texas. Big swing bands had become uneconomic for dancehalls, but smaller R&B bands with electric instruments and one or two brass players, like the Johnny Otis Show, and Big Joe Turner's piano based combos filled the gap. Jump-blues and R&B were a major influence on piano based ballad acts like Percy Mayfield, Nat King Cole, Charles Brown and Ray Charles who were also based in LA at this time, and piano was often the feature instrument in the West Coast style.
The West Coast sound was not confined to LA: the San Francisco Bay Area, especially Oakland, was a productive source of Blues-based music. Pee Wee Crayton moved north from LA in the early 50's and produced some of his best work there, and Bay resident Jimmy McCracklin had a big crossover hit in 1958 with 'The Walk'. His producer was Bob Geddings, who had recorded Lowell Fulson in Oakland soon after the Texas man was released from the Navy. Later the Blues heavyweights John Lee Hooker and Charlie Musselwhite moved to the Bay Area too.
Big Band Blues from Jimmy McCracklin;
[weaver_youtube http://youtu.be/ULKY79mDFMg id=videoid sd=0 percent=100 ratio=0.5625 center=1 rel=1 https=0 privacy=0]
The 16-year-old Johnny 'Guitar' Watson brought his distinctive style to the astonishing 'Space Guitar' in 1954, later scoring a big hit with 'Gangster of Love', and he had a long career touring the world. His 'mangle-it strangle-it' style was a huge influence on Frank Zappa, much as Howlin' Wolf's vocal growl was the inspiration for Zappa's collaborator Captain Beefheart.
Johnny Otis was a prolific generator of West-coast R&B with his Show always on tour, but also as a promoter of new talents like Etta James and Jackie Wilson, producing records, starting his own label and broadcasting on TV and radio. Big Mama Thornton was another of Johnny's discoveries, an she could belt out the Blues as good as any man as well as blowing a mean harp, Her impassioned version of 'Hound Dog' was perhaps overshadowed by Elvis Presley's cover some years later and her brilliant self-written 'Ball and Chain' was similarly covered by Janis Joplin in 1969. If progress is 'standing on the shoulders of giants', then 'Johnny Guitar' and Big Mama must have had sore shoulders!
Buddy Guy lends a hand as Big Mama belts out 'Hound Dog';
[weaver_youtube http://youtu.be/t4Zpmi9E088 id=videoid sd=0 percent=100 ratio=0.5625 center=1 rel=1 https=0 privacy=0]
The late 60's saw plenty of activity on the West Coast Blues scene. Canned Heat had a couple of big chart hits and cut a seminal album with John Lee Hooker before the unfortunate death of the inspirational Al 'Blind Owl' Wilson. Charlie Musselwhite relocated from Chicago and picked up local talent like Robben Ford. 'Godfather of British Blues' John Mayall moved to LA, and is still playing the Blues in Laurel Canyon. The original Blues players who had come to prominence after the rise of Blues based rock music found an enthusiastic audience in the West, as a generation of American youth embraced the the Blues as an authentic music of resistance in a time when the establishment was in trouble.
Los Angeles' status as the heart of the US record industry brought in the talents of people like Steve Miller, Carlos Santana, the nucleus of Fleetwood Mac and many more. With the rise of 'Rolling Stone' magazine and MTV, the West Coast has mirrored the Blues in becoming a post-war global phenomenon.