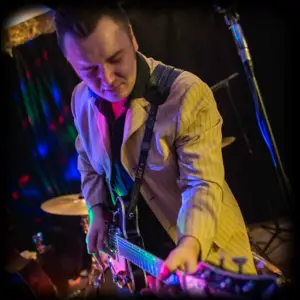 For anyone seeking a young, vibrant face on the blues scene who represents the dramatic changes taking place in a genre seeped in tradition need look no further than Ruzz Guitar. His deft embrace of social media and recent cultural trends can be a lesson to any blues artist struggling to stay relevant in a world saturated with heavily marketed product. But let's not get ahead of ourselves. Before taking a dive into the world of 21st century marketing, let's deal with the music.
A unique sound/a unique band
You might guess that a blues band fronted by a man named Ruzz Guitar would boast a pretty unusual sound. And in this case, you've guessed correctly.
The band sounds like hard-edged blues dipped in vintage punk with a twist of old-school R & B. Simply put, the strange mix of influences from this UK band makes them sound like nobody else. And yet, for all their oddness, every note they play comes recognizably from the blues.
Born to play guitar
Born and bred in the UK, Ruzz was always as strongly focused on his career as on his love of guitar. And the advice he gives out to young aspiring musicians highlights a sense of focus he's had from day one.

While taking a much-needed break from his hurricane of a touring schedule, he spoke to second year music performance students, providing wise words on everything young musical minds need to know before embarking on a career.
Here's what Ruzz had to say about the most important thing regarding establishing a career:
"You have to have goals and ambitions to aim at, you'll lack direction otherwise. Early on I set myself the goals of playing music full time, having a big band with a horn section and to play with musicians I respect (guitar heroes if you like)."
Advice on playing out
When it came to establishing a rep as a live performer, the advice given by Ruzz was fairly straightforward:
"It's an obvious statement, but you have to play as much and as many different places as you can," he said. A big pitfall he recommended avoiding was allowing yourself to be limited to on genre. This is not surprising advice for a man whose band melds so many different sounds. But his reasoning is worth hearing:
"I play trio sets, blues, rockabilly, big band gigs. Being able to diversify yourself will gain you more fans. I've gained opening slots for well know artists by having a good online presence, having a good relationship with venues and from a bit of detective work to find out who the promoters are! Small venues are great as you can get a cool vibe and other events such as local festivals all help you gain fans, experience and road chops."
And what about playing gigs for free? "I'll do a couple of charity gigs a year but the rest are all paid, I gotta pay the bills and fund future projects! If you're not careful you will get a reputation of playing shows for free."
Advice on social media marketing
In one sense, Ruzz's advice in the realm of social media is surprisingly simple. He speaks of the need to master such online venues as Facebook, Twitter, and Instagram. But in the end it's all about touching people with your music.
And that's a lesson that matters as much in 2017 as it did when the early blues pioneers were strapping on their acoustic guitars and hopping a train in search of the next town with a juke joint.
It's no exaggeration to say that Ruzz Guitar's Blues Revue, for all their modern flash, could have thrived in that era too.