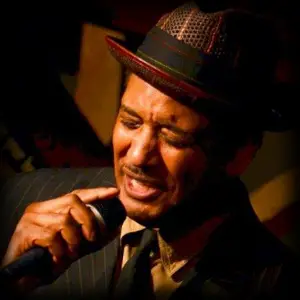 Bluesman Larry Griffith grew up with a wide range of musical styles calling out for his attention. He lists rocker Jimi Hendrix, jazz legends John Coltrane and Billy Strayhorn as inspirations, and cut his teeth musically around the likes of James Brown and Hank Ballard, while acknowledging the role of country music as also playing a role in his development. So how did he become a bluesman?
The answer is as complicated at Griffith's diverse musical influences. But the best place to start is with young Larry growing up in Cincinnati's poor inner city. His six string ambitions were there from the start and his mother was only too eager to help. But when a ninety-dollar guitar at the pawn shop proved too expensive, the future blues guitar whiz made the drums his first instrument.
A move to the Walnut Hill section of Cincinnati then brought him in close range with a number of important musical figures. Among those who lived nearby were Bill Doggett,
Ivory Joe Hunter
, and James Brown. But getting drawn into the orbit of Hank Ballard and the Midnighters was the most important thing to happen to Larry. At the unlikely age of sixteen, Larry became a Midnighter, which led to regular work both with the band and a session drummer.
So how did this session youthful session drummer become a blues guitar man?
It started with a dream.
Having moved to Atlanta, Georgia in 1990, Larry Griffith had now fully fallen in love with the blues. And in a cheap motel in Clarksdale, Mississippi, had the same dream three nights in a row. The dream featured Larry rocking a tiny, backwoods juke joint to its foundations – not with his customary drum set, but with a guitar.
He woke up, returned to Atlanta and met with his friend Chicago Jo Jones, telling him of this odd dream. Jones responded by handing him his first guitar – a heap of trash picked up from a garage sale for a dollar.
And thus was born a second act in Larry Griffith's life in the blues. Despite having played with many huge names on the blues scene – Sean Costello, Susan Tedschi, Taj Mahal, Chick Willis – Larry walked away from one successful life and into another.
But we still haven't answered the question we began with. How did a man with so many wildly different influences wind up getting drawn to the blues?
Perhaps the answer can be found in his lyrics:
Beating on my door
Tapping on my window pane
Sliding down my pole
Crawling through my veins
I've got the answer
Blues is calling my name
There we have it. Larry Griffith became a bluesman because he had to. Because his very soul was rattled by the call of the blues. Who knows? Maybe it came to him in a dream.