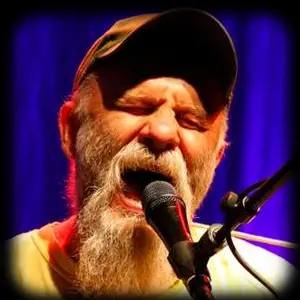 Watching Jools Holland's 'Hootenanny' on New Years Eve is something of a tradition among British Jazz and Blues fans of a certain age. At millions of parties it burbles away on the TV in the corner, waiting for Jools to count down to Midnight, but in 2006 a man came on the Hootenanny and immediately captured everyone's attention. With his baseball cap, old jeans and workshirt, long grey beard and down-home drawl, thrashing away on an old red guitar with three strings, Seasick Steve conjured up the authentic sound of a Delta juke-joint with his 'Dog House Boogie'.
That was the start of a rapid rise to fame for Steven Gene Wold, who was born in Oakland CA in about 1941. As a kid he learned guitar from Mississippi Bluesman K C Douglas, who worked in his grandfathers garage and when he was 13, Steve hit the road to escape an unhappy home life. He spent the next 20 years living mainly in Tennessee and Mississippi, finding work wherever he could, and rode freight trains all over the south in search of work and adventure. Steve did casual work, spending time as a farm hand and cowboy among other things, but he played his guitar wherever he went.
This led to some session work in the 60s as a musician, studio engineer and later as a producer in Seattle. In the late 90s, Steve tried his luck in Europe, making a living as a busker on the Paris metro for a while before moving to Norway in 2001. He fronted a trio, The Level Devils, with drums and string-bass, recording an album 'Cheap' where he sang about his experiences and included a couple of yarns about his life as a hobo. A solo album 'Dog House Music' was released in late November 2006, and when the Hootenanny was broadcast the following month, Seasick Steve had suddenly made it big. He played the Glastonbury, Leeds and Reading Festivals in 2007 and won the MOJO Breakthrough Act Award. The following year saw Steve playing Festivals in Japan, Australia and Europe, as his British tours sold out some pretty big venues, including the Royal Albert Hall. Steve's next three albums sold well around the world and all made the UK Top 10 Album charts.
This is 'Dog House Boogie' from the Hootenanny;
With homes in rural England and Norway, Steve and his wife Elizabeth have three grown sons, one of whom designs all his artwork and websites, and another who played drums and percussion on his tours and albums and also has a solo career as 'Wishful Thinking'. Steve positively celebrates his past as a working man, driving an old John Deere tractor and a 1951 Chevy pick-up truck, and always appearing in work clothes. His choice of instruments is a bit eccentric too; he calls that old red guitar the 'Three-String Trance Wonder' and it was given to him by an old friend, Sherman Cooper; his one-string Diddley Bow was made for him by '
Super Chikan
'; he plays a four-string 'cigar-box' guitar; a couple of 'hub-cap' guitars, one made from a Hudson Terraplane hubcap; several beaten-up vintage guitars and a 'Mississippi drum machine', which is a wooden box he stomps on.
Steve rocks Camden Town with John Paul and Dan;
Seasick Steve is a hard man to dislike, with his modest manner, his funny self-deprecating stories and his authentic Blues performances. On his 2013 album, 'Hubcap Music', he is joined by John Paul Jones, Luther Dickinson and Jack White. With John Paul on bass, mandolin and organ and drummer Dan Magnusson, Steve has played countless gigs and Festivals all over the world in the last few years. When the trio took to the stage in Glastonbury in front of a crowd of tens of thousands, their show was broadcast to millions more on BBC TV. He's certainly not in the Dog House now!