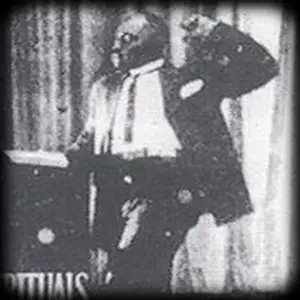 When the 'race music' industry was getting into its stride in the mid-20s, a surprising number of records were not secular Blues or vaudeville songs, but religious recordings. While the 'Blues Divas' and country songsters provided the secular output, the sacred side was dominated by Gospel singers,  'hell-fire preachers' and 'guitar evangelists'. Blind Willie Johnson and Blind Joe Taggart are the best known 'evangelists' of this period, although Blind Lemon Jefferson and Charley Patton both issued records of religious songs while hiding behind false names. However, the Rev. JM Gates was the undoubtedly the King of the 'Straining Preachers'.
Born in 1884, JM Gates was Pastor of Mount Vernon Baptist Church in Atlanta GA from 1914 until his death in 1945. A popular religious leader in his own community, the Rev. Gates made his first recording in his home town in 1926, and an early release, 'Death's Black Train is Coming' sold 35,000 copies! Inspired by this new channel for his hell-fire sermons, Rev. Gates began to record at a furious pace and by the end of that year, at least 100 tracks had been put down. The recording technology available then meant that each was limited to three minutes, but Rev. Gates could belt out a sermon and sometimes a short hymn in that time, usually joined in the singing by a few members of his flock in the 'amen corner'. The Rev. Gates was unwilling to be tied to an exclusive contract, and recorded his work for the Banner, Bluebird, Gennet, Okeh, Victor and Vocalion labels. On a trip to New York in August and September 1926, Rev. Gates managed to put down 42 tracks, although there was probably a high level of repetition as he spread the word around his various outlets.
'Mother Heart Breakers' is pretty strong meat!
By the end of 1926, the Rev. Gates began to take a more measured approach and for the next few years his output was only(!) about 20 tracks per year. In 1930, record sales 'fell off a cliff', and Rev. Gates did not go back into the studio for four years. He started recording again when record sales began to improve in the mid-30s, but Gospel Choirs and religious harmony groups were giving the public a more mellifluous and less scary sacred music. Rev. Gates's last session in October 1941, just before the USA joined WWII, included the portentous 'Hitler and Hell'. The Rev. Gates then retired back to his pulpit in Atlanta and he went to meet his maker just as the War was won.