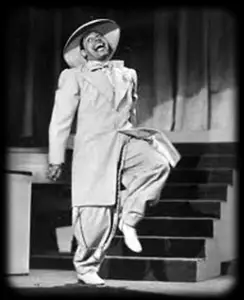 A Zoot Suit is a baggy, but well tailored, matching jacket and pants. The coat is long and flared, usually reaching down to the knee, with a high waistline, wide lapels, broad padded shoulders and a big pleat in the back. The pants are high-waisted too, but cut extremely generously in the leg before tapering tightly to the pegged cuff, almost gripping the ankles. Typically the pants would be 40″ at the knee and 10″ at the cuff, worn over thick-soled pointed shoes, and topped off with a broad brimmed hat, and sometimes an 'Argentinian' haircut with a 'duck-tail' at the back. The name 'Zoot Suit' came from the rhyming slang used by Jazz and Blues artists for whom it became something of a trademark or uniform.
The Zoot Suit had a 'killer-diller' coat with a 'drape shape', a 'stuff cuff' and a 'reet pleat'. It was popular with musicians and sharp-dressing youth in the couple of years before America joined WWII, especially among the youthful African-American and Mexican-American urban populations. Like many crazes and fashions among the young, the Zoot Suit was seen by the authorities as subversive and dissident, a signifier of rebellious youth. At a time when racism wasn't just acceptable but was strictly enforced in some regions, this was to have severe consequences in the Zoot Suit Riots of 1943 (see below).
ORIGINS
The actual origins of the Zoot Suit are obscure. Some trace it back to an extrovert bus-boy working in an Atlanta hotel or possibly to the costume worn by Clark Gable in the 1939 film, 'Gone With the Wind'. It may have originated with a Memphis tailor, Louis Lettes, who had a store near Beale Street, and presumably had many musicians among his customers. In New York, the Zoot Suit became fashionable among the Jazz and Swing musicians of Harlem, but getting a confirmed date for any of this is elusive. Harold C Fox, a Chicago trumpeter with a clothing business, has claimed to have 'invented' the Zoot Suit in 1941 and he certainly supplied 'uniforms' to many bands, and presumably he sold to members of the public too.
THE WAR ECONOMY
When the USA joined WWII in December 1941, the economy was put on a War footing. In March 1942, the War Production Board banned the manufacture of Zoot Suits as they used a lot of material. Narrow 'Uncle Sam Slick' suits used only half the material of Zoot Suits, so even wearing these ostentatious clothes was seen as unpatriotic by many people. The Zoot Suit was popular with sharp-dressing urban Black youth, like 'Detroit Red', later known as Malcolm X, and was also taken up by Mexican-American youth in LA, especially among its gangs. Girls had their own style, and girl-gangs like the 'Black Widows' and 'Slick Chicks' wore a drape jacket with a short skirt and fish-net tights. Known as 'pachucos', these young people were alienated from mainstream America by the 'de facto' institutionalised racism of the time in California, where some public facilities were designated as 'Anglos Only'.
THE ZOOT SUIT RIOTS
With the USA at War, military personnel from all over America were gathering in California and, coincidentally, the Los Angeles Naval Armoury was located in a Mexican-American neighbourhood near Chavez Ravine. Friction between the local youth and young military men pumped up from boot-camp frequently turned to violence, and the Zoot Suit was identified as the uniform of delinquent, unpatriotic gangs. After the 'Sleepy Lagoon' killing of August 1942, when more than 20 kids from around 38th Street were incarcerated, and Hank Leyvas was wrongly convicted of murder, the authorities and the LAPD began a crackdown on Mexican-American youth. In retaliation, gangs of Zoot Suiters would attack small groups of servicemen in their neighbourhoods. After months of skirmishing, on June 3rd 1943, hundreds of servicemen went to Mexican-American areas and started beating 'pachucos' within an inch of their lives. Ry Cooder's album, 'Chavez Ravine' has a track about the incident.
Excellent video giving background on LA in the 40s;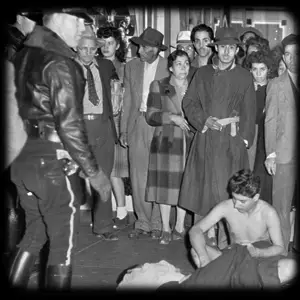 Over the next five days there was war on the streets of LA. The Mexican-American youth fought back and thousands more servicemen flooded to LA, where they were joined on the streets by up to 5000 civilians. They attacked Mexican-Americans in Zoot Suits whenever they appeared on the streets, invading bars and cinemas, pulling 'pachucos' off buses and beating them senseless. The kids would be stripped naked, their clothes burned, and sometimes urinated on, and often their 'duck-tails' would be cut off. The LAPD only intervened later to arrest those victims who could not crawl away. The riots spread to other cities like New York and Chicago, and in Philadelphia members of Gene Krupa's band were hospitalised. Zoot Suits were seen by a hyped-up, War-conscious population to be a sign that the wearer was unpatriotic and perhaps being manipulated by pro-Nazi elements. The military authorities declared LA off-limits to servicemen on June 8th, and things calmed down. The War Frauds Division seized over 800 Zoot Suits from LA shops and factories, and similar action followed in all major cities. A California State investigation later blamed the press and LAPD for fuelling the riots, citing racism as a major cause, but the Mayor put the blame squarely on the Zoot Suiters.
LATER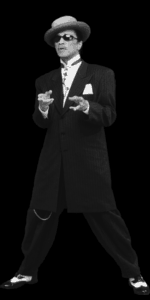 After the War, when fabrics became easily available again, fashions dictated that suits became more loose fitting, but the Zoot Suit phenomenon did not really return until the late 80s, again through music, with the arrival of a sharp-dressing singer called Kid Creole. TV shows like 'Dallas' already featured ladies in jackets with those padded shoulders and tailoring came back into vogue for men too. Later, drop-crotch 'balloon pants' were favoured by rappers, and some also took up the 'drape-shape' coat. Fortunately, modern Zoot Suits do not carry the cultural freight the the original items did, so the wearers are unlikely to be stripped naked in the streets!