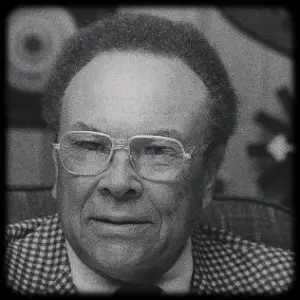 Don Robey was the owner of the Peacock, Duke and BackBeat labels that released some important R&B records in the 50s and were also the home of some of the best Gospel artists of the day. He was a tough man to deal with and made a lot of money by giving himself co-writing credits on his artists' songs, allegedly using violence and threats to enforce his will. Don had a good ear for a tune, however, and usually signed singers with strong Gospel-influenced voices that combined with great material to produce a string of R&B hits.
Donald Deadric Robey was born in Houston in 1903 and dropped out of school to make money from gambling. During WWII he moved to LA and managed a nightspot, The Harlem Grill, and when he came back to Houston in 1945, he opened his own club, The Bronze Peacock, where he booked the best Jazz and R&B acts of the time. One night
T-Bone Walker
had to leave the stage due to illness, when a young man jumped on-stage, picked up T-Bone's guitar, and started jamming with the band. That man was
Clarence 'Gatemouth' Brown
and when Don started his Peacock record label in 1947, 'Gate' was his first signing. Gate's records sold well enough to get the label moving, and Peacock also recorded Gospel acts like The Dixie Hummingbirds, The Mighty Clouds of Joy and The Five Blind Boys of Mississippi. In 1952, Don bought a share in Duke Records in Memphis, and then took it over completely, acquiring the talents of
Johnny Ace
and
Rosco Gordon
. Don's contacts on the
West Coast
led to him using
Johnny Otis
to produce
Big Mama Thornton
's huge R&B hit 'Hound Dog' in 1953. In 1954,
Bobby 'Blue' Bland
joined Duke to begin a string of big hits on the label, and Johnny Ace had three No.1 R&B hits that year, again produced by Johnny Otis, in his short but meteoric career.
In common with many label owners, Don would give himself credit as a co-writer on his artists' records, often under the name 'Deadric Malone'. Bobby 'Blue' Bland's big hit 'Farther On Up the Road' was completely written by Joe Veasey (a.k.a. Medwick), but Don got at least half the royalties. Songwriter Jerry Leiber, who provided a lot of material for Duke/Peacock artists, has described Don as 'a gangster'. He certainly carried a gun, and it is said he put Little Richard in hospital after a 'problem'. In 1957, Don formed the Backbeat label and after a couple of years it started to issue Soul music, as Gospel discovered its secular side. Joe Hinton and OV Wright enjoyed almost a decade of success on BackBeat, while Junior Parker and Bobby 'Blue' Bland continued to do well on Duke. With his good ear for talent, Don was helped by the producing and arranging skills of trumpeter Joe Scott, who was responsible for the punchy, danceable tracks that typified the labels' 60s output. In 1973, Don sold the labels to ABC records, and he died from a heart-attack two years later.