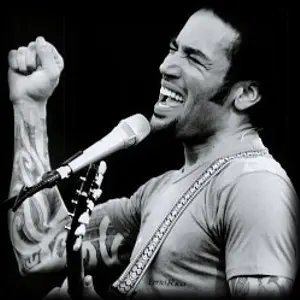 Modern Blues players find appreciative audiences all over the world, and Ben Harper has travelled a long way from his local club scene in the last two decades singing his incisive, modern songs. He uses traditional Folk and Blues forms to address contemporary issues in his songwriting, and his guitar work, especially when he plays slide, is straight from the Delta. That songwriting talent is enhanced by an instrumental sensitivity that shows you don't need 1000watts to grab people's attention when you face them with music that contains beauty, truth and honesty.
Benjamin Chase Harper was born in Pomona CA in 1969, with Jewish, African-American and Cherokee heritage, and he started playing guitar as a child. His grandparents ran The Folk Music Centre and Museum, so roots music was part of Ben's upbringing, and the first person he saw in concert was Bob Marley. Influenced by
Robert Johnson
and other Delta Bluesmen, Ben started playing slide-guitar as a teenager, and began appearing on the California club scene. He played alongside
Taj Mahal
in 1991 and was soon signed by Virgin Records, and his first album 'Welcome to the Cruel World' was full of his politically savvy, self-written songs. Ben took up an acoustic Weissenborn lap-guitar for the 'Fight for Your Mind' album, then formed his band The Innocent Criminals to move in the direction of Blues-rock. He helped singer/songwriter Jack Johnson get started in 1999 and has worked with him many times since then. Solo singles like 'Steal My Kisses' made the charts and further albums consolidated Ben's success on the domestic scene, while his reputation abroad grew quickly in Europe and Australia, as he was voted French Rolling Stone Magazine's Artist of the Year in 2003.
Ben gives his Wiessenborn a workout on a powerful new song;
Ben's musical influences have always been broad, and he recorded a Gospel album 'There Will Be Light' with the Blind Boys of Alabama, and appeared in a documentary film about Marvin Gaye. His social concerns led him to contribute to Vote For Change in 2004, to the album 'For The Lady' (imprisoned Burmese activist Aung San Suu Kyi) and 'Songs for Tibet' and he is active in the No Nukes campaign.
Ben picked up a couple of Grammys in 2005 and continued to record and tour regularly, including 'White Lies for Dark Times' with a new band The Relentless 7. He also works with Fistful of Mercy, a collaboration with George Harrison's son Dhani. Ben's latest album 'Get Up!' with veteran Chicago harp-player
Charlie Musselwhite
marks a return to Ben's familiar Blues roots, and he continues to tour the world relentlessly.