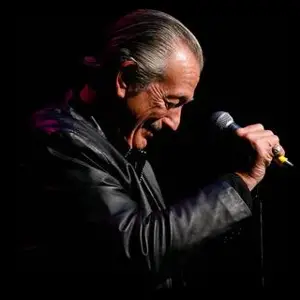 Charlie Musselwhite and Paul Butterfield were the two white kids who took Chicago Blues across the colour line to a new younger generation.
The authentic sound of wailing amplified Blues harp, as developed by Little Walter and Sonny Boy II, gave a focus to their self-named Blues bands and showed that this music is relevant to people outside the Black community and they took it all over the world.
In 1944, Charlie was born in Koskiusco MS, but he grew up in Memphis where he would hang around with old Blues men who still played there, like Furry Lewis and Will Shade, keeping his ears open.
He picked up some guitar skills, but Will's harp technique became the bedrock of Charlie's Blues education.
When he went to Chicago aged 18, Charlie would play on streetcorners around Maxwell St. where he befriended the eccentric Big Joe Williams and eventually earned some gigs on the South-side.
It speaks volumes for 'Memphis Charlie's' abilities that a white kid could take the stage and hold his own in those clubs.
He also formed a life-long friendship with John Lee Hooker at this time, and met harp legends Sonny Boy II, Junior Wells and 'Shakey' Horton.
Memphis Charlie and Harvey Mandel make a stunning debut;
Just as Paul Butterfield had recruited Howlin' Wolf's rhythm section for his first album, Charlie picked up Fred Below on drums and bass player Bob Anderson for his recording debut.
The veterans were joined by Harvey Mandel on guitar and Barry Goldberg on keyboards in 1966, when they cut 'Stand Back', Here Comes Charlie Musselwhite's Southside Band'.
It was a big hit and Charlie's mature playing and gruff vocals made a bold statement to a new, young audience. In another bold move, Charlie relocated to the West Coast, and his 1968 album 'Louisiana Fog' featured appearances by Robben Ford and his drumming brother Pat.
The brothers backed Charlie on the whole 1974 album, 'Takin' My Time'.
Recommended Album
Charlie has recorded a huge catalogue of work, but his first album made a huge impact, and it stands up as a major work all this time later.
Charlie's career has been a story of relentless gigging and regular recording, despite a struggle with alcoholism in the 80s.
He is mainly recognised as a singer and harp player, but Charlie can play some authentic Blues guitar too. With many Blues Music Awards, Hall of Fame Inductions and Grammy nominations, Charlie's recorded output currently stands at 26 albums.
Highlights include 'Where Have All the Good Times Gone', for Pat Ford's Blue Rock'it label, with Robben back on board; 'In My Time' for the Alligator label; and his 2010 album 'The Well'.
His collaborators include Bonnie Raitt, Tom Waits, Gov't Mule, The Blind Boys of Alabama, George Thorogood and the Best-Man at his wedding, John Lee Hooker. It is said that the Jake Elwood character in The Blues Brothers film was based on Charlie and he appeared on the big screen himself, as one of The Louisiana Gator Boys in the Blues Brothers 2000.
Atmospheric Delta Blues from a modern master;
Charlie continues to gig and record, and in 2013 he released a new album, 'Get Up', in collaboration with Californian guitarist Ben Harper, that reaches back beyond Chicago to Charlie's Delta roots, and picked up a well-deserved Grammy.
That unmistakable, rich tone has a timeless quality that carries the heart and soul of the 50s, but still makes an impact today.