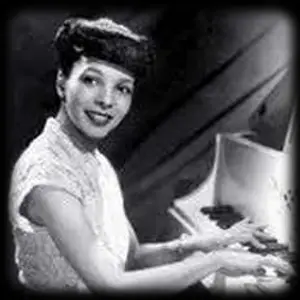 In the years after WWII, when Jump-blues and Boogie-woogie were transforming popular music, Hadda Brooks was a glamorous West-coast pianist who could thump out a boogie or croon a Blues ballad with the best of them. She went on to a career in film and TV, then staged a comeback in the 80s that earned her a Rhythm & Blues Foundation Award, more movie rôles, more albums and many prestigious gigs.
Hadda Hapgood was born in Los Angeles in 1916, into a middle-class family: her father was a Deputy Sheriff and her mother was a doctor. Hadda's musical education began when she attended the opera, and she studied classical piano for twenty years. After college in Chicago, where she picked up a rather different style of music, Hadda began playing piano professionally in LA, pounding out boogies in the style of
Pete Johnson
,
Albert Ammons
and
Meade Lux Lewis
. She was spotted by
Saul Bihari
and was one of the first artists signed to his Modern label in 1945, scoring a regional hit with her debut record. The instrumental 'Swingin' the Boogie' was billed under the name Hadda Brooks, a name given by the company. Her keyboard skills got her a lot of session work for the Bihari's labels: for example she featured on most of
'Smokey' Hogg
's records. After a few more instrumental releases of her own, Hadda was chosen to appear in the movie 'Out of the Blue', playing a lounge-singer: the record of the same name was Hadda's vocal debut and it became her biggest hit. Further movie rôles and hit records like 'That's My Desire' made Hadda something of a celebrity in the late 40s.
Laid back lounge Blues from 1948;
In 1950, she moved to the London label for a while, then returned to Modern, but never regained her big record sales. However, her film career blossomed as she appeared in big movies with Humphrey Bogart, Lana Turner and Kirk Douglas. In 1957, Hadda was the first black woman to host a TV chat show series, providing music while sitting at a grand piano. She was in demand on the cabaret circuit in the 60s, performing regularly in Europe and eventually relocating to Australia. Hadda's 1984 album 'Queen of the Boogie' was a compilation of her Modern catalogue, which prompted her return to the nightclub scene in The States.
She was presented with a Pioneer Award by the R&B Foundation in 1993, and then recorded a new album, 'Anytime, Anyplace, Anywhere'. In 1995 Hadda returned to the big screen too, with Jack Nicholson in 'Crossing Guard. She cut three more albums; appeared in a couple more movies and began playing up-market venues like The Viper Room, The Algonquin in New York and various Hollywood clubs. Sadly, Hadda passed away in LA after heart surgery in 2002. A documentary about her life, 'Queen of the Boogie' was released five years later.