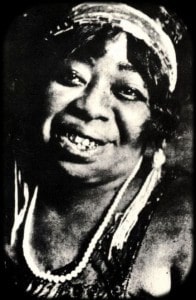 Ma Rainey could make a good claim to be the first Blues singer. Not blessed with good looks, but always dressed to kill, she could belt out a Blues song with power and passion.
In 1902, aged about 16, she was touring the South singing in a Minstrel Show with her parents. One evening near Clarksdale in the Mississippi Delta, she heard a young woman singing a sad song, which she quickly learned by heart and used as a closing number in her act, a crucial moment in the origins of the Blues, as she and her imitators spread the simple but effective Blues form across the South. Two years later this girl (born Gertrude Pridgett) married singer William Rainey, and the couple began to appear as 'Ma and Pa Rainey, The Assassinators of the Blues'.

For nearly twenty years they toured the South with various tent shows and circuses, gaining a reputation for mixing sharp and relevant lyrics with this powerful new musical form. The field cries of sharecroppers, the woes of poverty and the joys and pains of love were never far from their lips. These travelling shows were always on the move, from Texas to the Atlantic coast, and their role in spreading the Blues from it's
Delta
origins to a wider audience should not be underestimated.
In about 1912 the Raineys' show included a young comedian, Clarence Smith, whose young sister, Bessie, joined the show as a dancer. Bessie Smith came under the tutelage of Ma Rainey and soon had a solo spot singing in the show. Rainey is given credit for coaching Bessie, and even making her a star, but Bessie had the looks and voice to make it anyway. Ma was certainly a role model for the younger woman, her rowdy behaviour showing how a determined and feisty woman could be in control of her own career.
'Black Eye Blues' was an early Ma Rainey record.
Mamie Smith
's 1920 record, 'Crazy Blues' was the first Blues hit, selling over a million copies, and the new phenomenon of '
Race Records
' opened up recording opportunities for Black artists. Both Bessie and Ma Rainey signed record deals in 1923, as every label went looking for the next Blues Diva. Bessie went on to become the best selling singer of her generation and Ma Rainey, then 37, made quite an impact herself, recording over 100 tracks in a six year studio career after she signed for
'Ink' Williams
at Paramount.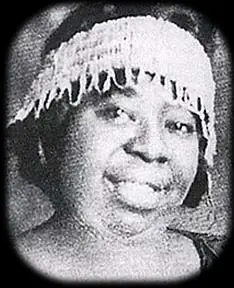 Ma Rainey had a large repertoire of popular Minstrel songs, as well as the Blues, and she recorded with jug-bands and guitar/piano duos, occasionally sharing vocals with Bluesmen Tampa Red and Blind Blake. She also recorded with bigger bands which included players like Louis Armstrong, Fletcher Henderson and Coleman Hawkins. Some of Ma Rainey's records like 'Jealous Hearted Blues' and 'Boll-Weevil Blues' have become classics, while numbers such as 'See See Rider', 'Ma Rainey's Black Bottom' and 'Shave 'Em Dry' showed her talent for the juicier 'hokum' style of the Blues.
Ma Rainey sings about her girlfriend;
Lucrative theatre bookings took over from travelling tent-shows as Ma Rainey continued to perform to huge acclaim on the TOBA circuit for the next ten years. The Wall Street Crash of 1929 and resulting economic depression meant there was less money to be made from music, so Ma Rainey retired from performing in 1933. She went back to a comfortable life in her home town of Columbus GA. where she passed away in 1939. The Original Blues Diva left a huge legacy for later generations.