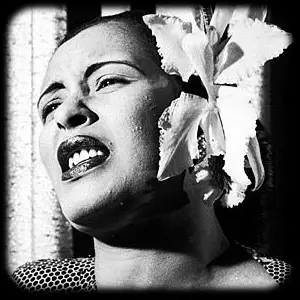 Billie Holiday was one of the world's foremost Jazz singers, with that flexible but fragile voice that spoke to the heart of a woman's pain and vulnerability.
She had a magnificent command of jazz phrasing but her vocal presentation was underscored with fundamental elements of Blues music, specifically 'thirds' descending into 'seconds' to give those characteristic 'blue notes' and transforming a tinny, warbling voice with limited range, into something transcendent and heart-rending. This beautiful woman used her talents as a singer in front of the world's finest jazz orchestras and wrote some great songs, but she died lonely and sad.
In 1915, Eleanora Fagan was born in Philadelphia to a mother, Sadie, who was barely 14 herself at the time. Sadie was mostly an absent parent, and Eleanora was raped and beaten as a child and then put into care at a reform school. Soon after her release, she moved to New York where her mother was working as a prostitute: Eleanora did likewise, and was jailed when the brothel was raided. Released in 1929 while still 14 years old, she began singing in Harlem clubs, where she took the stage name Billie Holiday from a singer she admired, Billie Dove, and her supposed father Clarence Holiday, who was also a singer, in Fletcher Henderson's band. By 1932, Billie was making a reputation in the clubs and producer
John Hammond
recorded her with Benny Goodman's Orchestra in 1933 on 'Riffin' the Scotch', which was a regional hit. Billie signed to Brunswick Records and began recording with Teddy Wilson's band, turning simple pop tunes into jazz classics by combining his swinging arrangements with her talent for improvising melodies.
Their version of 'Summertime' was the first jazz standard to make the national pop charts. Saxophonist Lester Young had a particular rapport with Billie and gave her the nick-name 'Lady Day'.
1936 version of 'Summertime';
Count Basie invited Billie to join his band on tour in 1937, and it was during this period that she developed her persona of a woman who was unlucky in love. Disagreement with Basie over material led to Billie joining Artie Shaw's Orchestra, making her the first black artist to front a white band. This led to problems in the South, with Billie being heckled onstage and unable to join the band in the bar, and when she was asked to use a service elevator at The Lincoln Hotel, it was the last straw and she left the band. In 1939, Billie recorded 'Strange Fruit', a harrowing song about lynching which became a big hit despite getting absolutely no radio airplay. Performing this song during her residency at the upscale New York nightspot Café Society, Billie insisted on dimmed lights and silence, and as the spotlight gradually closed down on her face, the song ended, they killed the light and Billie was gone! This dramatic show was mentioned in Time Magazine, but as her fame grew so did her problems: she began using heroin and she was drawn towards violent, unsuitable men. She gave money to her mother to open a restaurant, but when she needed some of it back Sadie refused, so Billie turned this episode into her song 'God Bless the Child', which topped the R&B charts and was a big crossover hit.
Billie performs 'Strange Fruit' on TV;
Live Christmas concerts broadcast from The Apollo in 1944 and '45 confirmed Billie's national popularity, and her records from that time tended towards lush string arrangements rather than jazz bands. She starred with Louis Armstrong in the film 'New Orleans' in 1946, but by then her heroin use was becoming a serious problem and the following year she spent ten months in jail on drug charges. Her comeback shows at Carnegie Hall sold out, and she broadcast a concert with Benny Goodman shortly afterwards. Billie's drug conviction meant she couldn't get a 'Cabaret Card', so she couldn't perform in any New York venue that sold alcohol, seriously affecting the rest of her career.
She toured widely in Europe, confirming her worldwide reputation, but her lifestyle was starting to cause health problems, making her voice sound even more fragile, although it never lost that steely edge. She continued to record, and her autobiography 'Lady Sings the Blues' led to a hugely successful album. In 1956, a series of concerts at Carnegie Hall were recorded on a great live album, including Billie's own songs 'Don't Explain', 'I Love My Man' and 'Fine and Mellow', and she toured Europe again making many concert and TV appearances. Billie died in a New York hospital in July 1959, childless, lonely and broke.