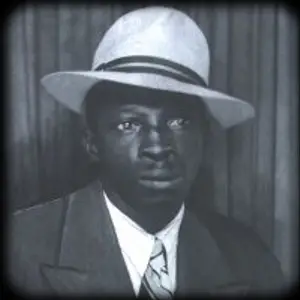 Tommy McClennan was a rough-edged Delta Blues player whose gravel voice and wild, slashing guitar style evoked the earliest days of the Blues.
In a 27-month recording career in Chicago, he left a powerful legacy of raw-boned Blues, and his songs like 'Deep Sea Blues' (re-worked by his friend, and possible 'alter ego' Robert Petway as 'Catfish Blues') and 'Cross-cut Saw' are standards that have been recorded by countless players down the years.
Born in Yazoo City in 1908, Tommy was a field-hand who played guitar on street-corners and in juke-joints around the southern Delta. It is said that he was often joined in his ramblings by his friend Robert Petway, another Yazoo resident who shared Tommy's rough style, which was closely modelled on Charley Patton.
Tommy's reputation spread outside the region because Lester Melrose came from Chicago to Yazoo City to recruit him to the Bluebird Records label. In 1939, Tommy went to Chicago, and on November 22nd Tommy cut eight tracks including 'Bottle it Up and Go', which sold very well. He returned to the studio several times in the next two years, putting down a series of classic Blues tracks. His final session, on February 20th 1942 included 'Bluebird Blues' with Robert possibly playing 'second' guitar and yelling encouragement.
Tommy's 'Deep Sea Blues' from 1941.
Recommended Album
Tommy played his Blues as if he really meant it, and he wrote some great songs
After a row with Melrose, Tommy did not record again, but he continued to play the South-side clubs for a few years.
Tommy became an alcoholic later in the 40s, disappearing entirely from the scene, and his fate as a musician is unknown. Neither is anything known about Robert Petway after that final Bluebird session, leading to speculation that they were, in fact, the same man. Tommy is recorded as passing away from pneumonia in 1961, in Chicago.