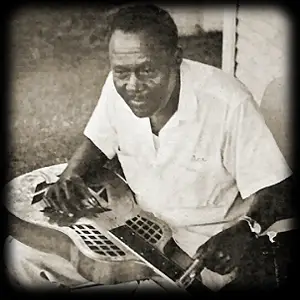 Black Ace was the recording name of BK Turner, a Texas Bluesman with a melodious voice and a fine slide-guitar style, who took his Blues name from his only popular record. He was a well known radio personality in Fort Worth before WWII, when his records sold well across the South, but he was never a national Blues star. 'Black Ace' made a comeback in the 60s, after two decades in obscurity, but never really got swept up in the Folk/Blues revival, and remains a footnote in the story of the Blues.
Babe Kyro Lemon Turner was born on a farm in Hughes Springs, Texas in 1905 and he built his own guitar as a kid. He began playing at parties and, when he met Oscar 'Buddy' Woods in the mid-20s, he took up Hawaiian steel-guitar, played across his knees. The pair would play around the Texas/Louisiana borders, often with guitarist
'Smokey' Hogg
along too, as they travelled the juke-joints and work camps on payday, following the money. Recording opportunities were scarce in the Depression years, and by the mid-30s, Babe had relocated to Fort Worth where he broadcast regularly on KFJZ radio. In 1937, he recorded six tracks for the Decca label and one of them, 'Black Ace' was a regional hit. It became his theme tune on KFJZ as he hosted a radio show for five years, and he also began performing under that name. In 1941, Ace had a part in the movie, 'The Blood of Jesus'.
Black Ace plays the song that gave him his Blues name;
During WWII, he served in the armed forces, so when he was discharged he started gigging again, but also doing farm work, as the Blues was becoming a more urban music in the post war years, and Ace was not heard outside his home town for many years. In 1960, with the Folk/Blues revival in full swing, he was 'rediscovered' by Chris Strachwitz and Paul Oliver, and recorded his 'Black Ace' album for the Arhoolie label under the name BK Turner. 'Ace' also appeared in the 1962 documentary film, 'The Blues', but did not record again and passed away from cancer in Fort Worth in 1972.