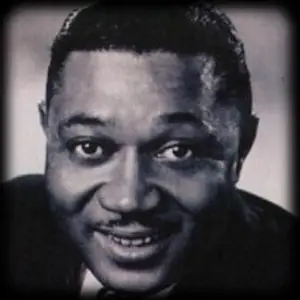 'Smokey' Hogg was an old-school Texas Blues guitarist and pianist who moved to the West-coast after WWII and had a couple of good R&B chart hits with a smooth piano Blues sound, alongside his dozens of country-style, guitar based records. His down-home delivery and eccentric sense of timing sounded old-fashioned in an era of frenetic Jump-Blues party music and the polished Blues-ballads of Percy Mayfield and Charles Brown, but Smokey had ten prolific years as a recording artist, with his songs appearing on more than 20 different labels.
Andrew Hogg was born in Rusk County, Texas in 1914. His older cousin,
Sam 'Lightnin' Hopkins
was a 'lead-boy' for
Blind Lemon Jefferson
, and Andrew's music showed elements of Texas Blues, but influenced by the 'jazzier' sounds of
Big Bill Broonzy
up in
Chicago
. He learned to play guitar and piano, and in the mid-30s, he was often seen around Texas juke-joints and bars playing with slide-guitarist BK Turner a.k.a. '
Black Ace
'. In February 1937, he was in Dallas where he cut a couple of songs that were issued on the Decca label, and at the same session he played guitar on four tracks by the well known local pianist
'Whistlin' Alex Moore
. Andrew served in the Army during WWII and when he returned to Dallas he recorded a series of songs that were leased to the
Bihari Brothers
' new company in Los Angeles. Accompanying himself on guitar, bass and piano, they were issued on the Modern label under the name 'Smokey' Hogg. Still in Dallas, he also recorded for the Bullet label, singing and playing piano over the guitar of
Frankie Lee Sims
.
'Long Tall Mama', a typical piano Blues, was a big hit in 1948;
In 1948, Smokey moved out to the West-coast and went into Modern Records' studio with pianist
Hadda Brooks
, and his second single 'Long Tall Mama' was a national R&B hit. A regular stream of singles followed, including a cover of John Lee
'Sonny Boy' Williamson
's 'Good Morning Little Schoolgirl', which again made the national charts in 1950. Switching to
Art Rupe
's Specialty label, Smokey released four good selling singles for them, and a couple more for Exclusive, while Modern were still releasing material from those 1947 Dallas sessions. Smokey then embarked on a kind of 'double-life' in the early 50s, recording guitar Blues in Texas for small labels like Independant, Sittin' In With, Jax, Jude, and Macy's own label while recording more sophisticated piano Blues in Los Angeles for the Bihari's Modern, RPM and Meteor imprints, as well as
Lew Chudd
's Imperial, the newly formed Mercury and smaller outfits like Combo, Top Hat and Colony, while further tapes were leased to Fidelity, Federal and Showtime.
'Worried Blues' was recorded back in Texas in 1950;
Smokey had a couple of singles released by Ray's Records of Pasadena in 1957, and made his final cuts for Lee Rupe's Ebb label later that year. In total Smokey released a remarkable total of almost 70 records in just over 10 years, playing in a style that sounded old-fashioned from the outset, so his music showed a durable appeal. Smokey returned to Texas and continued to play around the Dallas area until he passed away in McKinney at the age of 46, just before the Folk/Blues revival made country Blues popular all over the world.