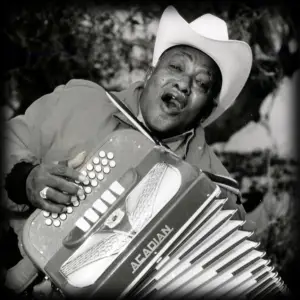 When accordion player and singer Boozoo Chavis came out of 'retirement' in the 80s, he brought with him a primitive zydeco style that took the music back to its roots. His rowdy, knockabout stage act and hypnotic single notes and triples on the accordion showed the world, through films and Festival appearances, what a joyful experience zydeco music brings with it.
Wilson Anthony Chavis was born near lake Charles LA in 1930 and learned to play the accordion by watching his father play for friends and family. His mother opened a dance club in 1944, where 'Boozoo' could sit in with Maurice
Chenier
and his sons
Clifton
and Cleveland, picking up techniques from the early zydeco masters. With his own song 'Paper in My Shoe', Boozoo had the first real zydeco hit in 1954, and the record sold well all over the country, but when he saw the paltry royalty cheque it brought him, he thought it so disgraceful he retired from recording music altogether. Boozoo spent the next thirty years training racehorses, before he signed a contract with the Maison de Soul label in 1984. With a sandpaper voice and a hypnotic single-note riffs, Boozoo took zydeco back to an earlier style compared to the current 80s output. Boozoo recruited his sons Charles on 'frottoir' and Rellis on drums into his backing band The Majic Sounds, who seem able to cope with the ol' man's eccentric sense of timing. Boozoo's attitude was "If it's wrong, do it wrong with me!"
Boozoo plays his 'Johnnie Billy Goat' at a Louisiana Festival;
After three great albums with Maison de Soul, in 1991 Boozoo moved to the bigger Electra label, and he appeared in the 1994 documentary film 'The Kingdom of Zydeco', as the music spread from its Louisiana roots. With his Bluesy 'sore-throat' voice, running around the stage, shouting and wailing, Boozoo played many music Festivals to great acclaim. He issued his album 'Johnnie Billy Goat' in 2000, but sadly Boozoo died from complications after a heart attack the following year.