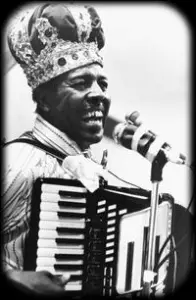 The accordion is not an obvious instrument for the Blues, but in the hands of Clifton Chenier, The King of Zydeco, resplendent in his robes and crown and singing his in Creole patois, good-time boogie and swamp blues gained a delicious new flavour. Once confined to a small corner of Southern Louisiana, this joyful blend of Cajun, French, Caribbean, Blues and R&B was given to the world almost single-handed by Clifton Chenier and his Red Hot Louisiana Band.
Clifton was born in Opelousas, Louisiana in 1925 into a sharecropping family with a strong interest in music. His father taught him accordion and harp; his uncle Maurice 'Big' Chenier played fiddle and guitar as well as owning the local dance club, and his brother Cleveland accompanied the young Clifton on washboard (or more correctly, 'frottoir'- rub-board) as they played at the weekends for their fellow oil-workers along the Gulf Coast.
In 1954 a scout from the Elko label of LA took Clifton, with his brother and uncle, to a radio station in Lake Charles where they cut 'Louisiana Stomp c/w Cliston Blues', which was a regional hit. The LA- Texas connection led to Clifton signing for the Specialty label the following year and 'Ay-Tete-Fee' (Hey, Petite Fille or Hey, Little Girl) brought Zydeco and Clifton to national attention. He toured the country with
Lowell Fulson
and
Jimmy Reed
. When
Chess Records
signed him up the following year he went on tour with
Etta James
, but Clifton did not fit well into the
Chicago
organisation so the partnership was not a happy one. Back in Louisiana he resumed his position as a top-class regional performer, but that led to him writing more of his songs in Creole French.
Clifton puts a lot of passion into his first record;
In 1964, Chris Strachwitz of the Arhoolie label, always keen to promote American roots music, cut the album 'Louisiana Blues and Zydeco' with Clifton and interest began to grow again. Clifton astonished the Berkeley Blues festival in 1966 with his Blues Accordion and the following year he issued 'Bon Ton Roulet' with his uncle Maurice on fiddle. A special label, Bayou, was created to issue Clifton's music and his title of 'King of Zydeco' led to him performing in a crown and regal robes on national and European tours. Among the young musicians who played with Clifton's band around this time were Stanley Dural, who was inspired to start his own career as Buckwheat Zydeco, and Sonny Landreth who picked up a distinctive 'feel' to his slide-guitar.
With his name now synonymous with Zydeco, Clifton was the subject of two documentaries, and the French film led to a triumphant appearance at the Montreux Festival in 1975. By this time Clifton had assembled his definitive band with his brother Cleveland on 'frottoir', bassist Joe Morris, Robert St. Clair on drums, guitarist Paul Senegal and John Hunt on sax. Collectively The Red Hot Louisiana Band really put Zydeco on the map with their 'Bogaloosa Blues' album and several romping live recordings. Clifton won a Grammy in 1983 for his album 'I'm Here', and next year the band played the White House.
A short documentary film from Arhoolie, where Clifton tells it to you;
Sadly, by then Clifton was suffering health problems. His diabetes meant his weakened arms and shoulders could no longer cope with playing the accordion, so he began to play more harp. An electronic accordion extended Clifton's playing career for a while, but with his medical condition worsening he struggled with kidney dialysis and eventually his foot was amputated.
Clifton Chenier, The King of Zydeco died on December 12th 1987.