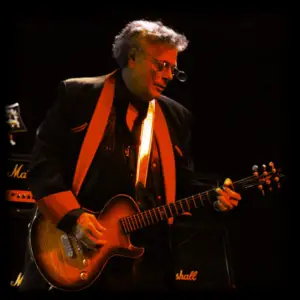 Blues-Rock was one of the musical products of the sixties, when Blues music was at something of a crossroads, going on to form a cornerstone of modern rock music. The tectonically heavy sound of Leslie West's band Mountain helped to give the genre a solid foundation. With a great vocal style and a trademark guitar tone, Leslie took the band on tour around the world, improvising around heavy rock themes with power and panache, and he continues that work many decades later, despite some health issues.
Leslie Weinstein was born in 1945 in New York City and grew up in Hackensack. He changed his surname to West when his parents divorced, and formed his first band The Vagrants as a teenager. The band had a couple of regional hits in 1966, and three years later Leslie teamed up with bass player Felix Pappalardi to form Mountain. They picked up the banner dropped when Cream disbanded, and Felix had produced three of Cream's albums so their influence was clear, but Leslie's aggressive Blues-based guitar was at the core of the project, sharing vocals with Felix. Mountain played the Woodstock Festival, and when drummer Corky Laing joined soon afterwards, a long standing partnership was founded. Their single 'Mississippi Queen' was a 1970 hit in the Hot 100, and all their albums made the charts as the band explored hard-edged Blues Rock. Mountain split up in 1972, so Leslie and Corky joined
Jack Bruce
in a power trio that produced three excellent studio albums, but that ended when Mountain re-formed in 1973. The band split again the following year, but in 1981 Mountain got together on a more permanent basis, and has been an on-going project for Leslie and Corky since the sad demise of Felix in 1983.
Mountain play 'Mississippi Queen' on American TV;
Outside his long-running band, Leslie has released 15 solo albums. He has worked with The Who, Al Kooper, Ozzy Osbourne and
Bo Diddley
, and has made countless guest appearances on albums and gigs. Mountain's last (?) album release was in 2007, with 12 covers of Dylan songs and a cameo from Ozzy. When Leslie recorded 'If Heartaches were Nickels' with
Joe Bonamasssa
, both men issued the track on solo albums, and in 2009 Jack Bruce's son Malcolm toured The States and Britain with Leslie and Corky billed as West, Bruce Jr. and Laing. Leslie has suffered some health issues recently, losing a lower leg to diabetes, but he has recovered from surgery and keeps on rocking.