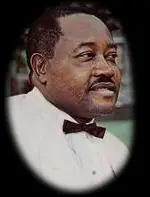 Probably the greatest Gospel singer of all time. 'The Thunderbolt of the Middle West' had a massive vocal range and unparalleled dynamic control, slipping effortlessly from a whisper to an earth-moving blast. His commanding stage presence and superb delivery could have made him a Blues star, but he would have nothing to do with secular music. He made several million selling records and he was dubbed 'the male Mahalia Jackson', a sentiment wholeheartedly endorsed by Ms. Jackson herself.
Joseph May was born in Macon MS in 1912 into a family steeped in the Church of God, where male members are given the title Brother when they become adults. He had a fine voice and sang with the Church of God Quartet as they toured the Southern Gospel circuit, and later with a gospel choir The Pilgrim Travellers, Brother Joe was often paired with the young Jessy Dixon as featured vocalists. When he married in 1941 and moved to St. Louis, he was taken under the wing of
Willie Mae Ford Smith
. She was very influential on Brother Joe's phrasing, and combined with his natural talents of range and dynamic, he became a formidable performer, acquiring his title 'The Thunderbolt of the Middle West'. He also took on some of the vocal characteristics of
Bessie Smith
, and although the devout Brother Joe would never sing the Blues, his rocking style had an awful lot in common with up-tempo Blues when he was lost in the moment. He appeared many times at
Rev. Thomas A Dorsey
's National Convention of Gospel Choirs, and joined the
Sallie Martin
Singers where 'The Mother of Gospel Music' gave him a national audience.
Brother Joe tells you 'You've Gotta Move';
In 1949, Brother Joe signed for Specialty Records, and his early recording of 'Search Me Lord' was said to have sold a million copies. Resplendent in white robes, Brother Joe toured constantly, often with a full choir but equally at home with a simple organ accompaniment. He continued to record and sell millions of records without troubling the charts or crossing over into the 'white' market. Switching to the Nashboro label in 1958, Brother Joe recorded many of his own compositions. Brother Joe was always popular in Gospel circles and he was given a higher profile when he starred with Marion Williams in the musical 'Black Nativity' in 1961. Written by Langston Hughes, this was a huge off-Broadway hit and Brother Joe toured The States with the show. He returned to his Southern homeland and continued to record and tour, despite his failing health, throughout the 60s. Unfortunately, Brother Joe suffered a massive stroke and for him Judgement Day arrived on July 14th 1972.