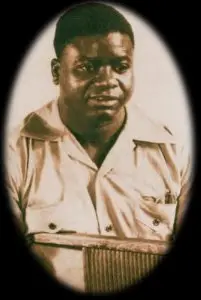 The washboard was the rhythm instrument of choice for street musicians playing the Blues in the early days, but Washboard Sam took it into the studio and made himself a strong career as a session musician in Chicago. He also had a great voice and a talent for songwriting that saw him record more than 160 tracks as a solo artist. Sam was a great showman and bandleader too, and he could pack out big theatres with fans of his good-time music. When the Blues went electric after WWII, Sam's style seemed old-fashioned, so he switched careers to become an unlikely Police Officer. However, with the Folk/Blues revival, he returned to the Blues in the mid-60s, touring Europe and recording again.
Robert Brown was born in 1910 in Walnut Ridge AK, and is believed to be the illegitimate son of Frank Broonzy, which makes him
Big Bill Broonzy
's half-brother. As a teenager Robert moved to
Memphis
to work as a street musician, where he picked up the 'Washboard Sam' tag and often performed in a trio with guitarist
Sleepy John Estes
and harp player
Hammie Nixon
. By 1932, Sam had moved to
Chicago
where his half-brother Bill and his friend
Tampa Red
were established Blues recording stars. Sam's fine voice, his sunny personality and his rhythmic skills soon saw him playing on their records and producer
Lester Melrose
recruited him to the Bluebird label's 'house band'. This 'house style' idea of Lester's was copied many times down the years, notably by
Chess
, Stax and Motown in their heyday, and Sam played behind Bluebird's biggest stars, like
John Lee 'Sonny Boy' Williamson
,
Roosevelt Sykes
,
Bukka White
and many more.
Big Bill helps out on the rocking 'Diggin' My Potatoes';
In 1935, Sam began a solo career, which saw him record a string of hits like 'Diggin' My Potatoes', 'Mama Don't Allow', 'Low Down Woman' and 'Back Door'. He was a popular live performer too, with his happy '
hokum
' material, his powerful, versatile voice and his cast of excellent sidemen, which meant that his washboard was mainly just used as a stage prop. After WWII, however, Sam found that the new electric Blues was leaving him behind and his record sales began to fall away. He cut a final session with
Willie Dixon
at Chess in 1953 and then retired from music, and it is said he joined the Chicago Police Department. When Chicago Blues got a big lift in 1963 with the popularity of British bands like
The Stones
and
The Animals
, Sam was coaxed out of retirement by Willie Dixon. Sam played some gigs around Chicago and recorded some tracks for
Victoria Spivey
's label and even made a trip to Europe in 1964. Sadly Sam's health was failing, and he passed away in his adopted home-town in 1966.