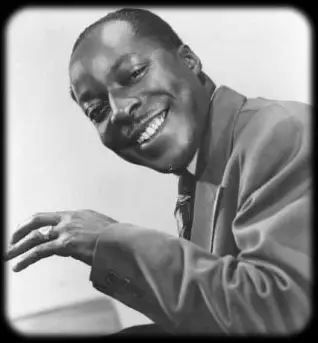 Cecil Gant had a massive hit in 1944 with 'I Wonder', which went to No.1 in the Billboard R&B charts and made No.20 in the Hot 100. A hard rocking boogie-woogie pianist with a voice that worked well with a Blues ballad, Cecil had his big hit while he was in the Army and his concerts, where he was billed as 'Private Gant, the GI Sing-sation', attracted an integrated audience.
A roadhouse pianist from Nashville TS, Cecil was drafted at the start of WWII and got his big break when he asked if he could go onstage and play during a break at a War Bonds rally in Los Angeles. It was a sensation, so further War Bonds gigs followed and Cecil was signed to the Gilt Edge label. 'I Wonder' was soon at the top of the R&B charts, but the flip-side, 'Cecil's Boogie', showed another aspect of his talent with a blast of wild party music contrasting with the 'late night crooning' of his breakthrough hit.
Cecil had several hits on a variety of labels over the next few years including 'Another Day' and 'I'm a Poor Man, But a Good Man'. His later tracks, some recorded in Nashville, had a great influence on later rockers like Jerry Lee Lewis especially the keyboard pounding 'We're Gonna Rock' in 1950, when Cecil was billed as 'Gunter Lee Carr', for some unknown reason.
Cecil had developed an alcohol problem, and when he went down with pneumonia in February 1951, possibly made worse by heart issues, he did not survive.

'I Wonder' was an early crossover hit;